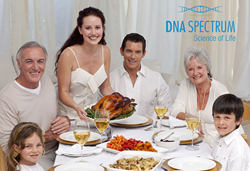 This Thanksgiving, DNA Spectrum would like to help clients reflect on their roots, look forward to healthier bodies, and prepare their families for the future of DNA science.
Chicago, IL (PRWEB) November 26, 2014
In keeping with the holiday spirit, DNA Spectrum is giving customers a bevy of last-minute Thanksgiving savings. The company is offering up a variety of coupon codes and offers across all product lines this holiday weekend as well as a photo contest for Thanksgiving.
Thanksgiving, Black Friday, and Cyber Monday are right around the corner, and DNA Spectrum is expressing its' own thanks to both loyal customers and those looking to explore their ancestry, health, and future genetic breakthroughs in this time of celebration and reflection. The holiday season is often a time when people reflect on their heritage and history, as they are surrounded by their families. To help make the celebrations that much more special, the following coupon codes will be made available now through December 2nd:

$5 Off of the Comprehensive Ancestry Package – Coupon Code: ThankCOMP
$15 Off of the Full Spectrum Ancestry Package – Coupon Code: ThankFULL
$30 Off of the Full Spectrum Plus Package – Coupon Code: ThankPLUS
$10 Off of a 2 year genetic storage plan - Coupon Code: Thank2Safe
$20 Off of a 5 year genetic storage plan - Coupon Code: Thank5Safe
$60 Off of a 10 year genetic storage plan - Coupon Code: Thank10Safe
In addition to these wallet-sparing offers, this weekend is the last chance to pre-order the brand-new myDNA Fitness service for $99 (The price goes up to $139 on December 2, 2014). This program, which leverages users' own genomes to tailor specific fitness programs for each individual, is set to revolutionize the consumer genomics and fitness industries at large.
Not only will users become the first to experience this breakthrough in personal health management, but they will do so without having to break the bank. Moreover, the pounds from all that delicious turkey and stuffing will have no place to hide once myDNA fitness displays a great way to exercise and lose weight based on genetic structure extracted from a DNA cheek swab sample.
myDNA Safe gives customers the unique opportunity to save a snapshot of their DNA. Human genome changes throughout a person's lifetime. As scientific breakthroughs continue and new therapies are discovered, it will be crucial to have a copy of DNA at the youngest possible age. myDNA safe stores a person's entire genome, and epigenome, by stabilizing cheek cells and storing them from the date of receiving the sample.
This is a time of year to be thankful, reflect on what has happened, and look forward to what is coming next. DNA Spectrum would like to help everyone reflect on where they come from, look forward to healthier bodies via myDNA Fitness and protection and preparation through myDNA Safe DNA storage. All offers listed are set to expire on December 2nd, so now is the time to take advantage and make this a wonderful holiday season!
Every person's DNA stores an incredible amount of valuable information. This knowledge is only as relevant as the tools available to understand and unravel the mysteries hidden within the genetic sequence. The vision of DNA Spectrum is to uncover the information contained within a genome and present the findings in a format that is easy-to-understand, meaningful, and life changing. With DNA Spectrum as a partner, customers and researchers will be at the forefront of genetic breakthroughs for generations to come and will be able to access all genetic needs through one online marketplace.
Media Contact:
Paul Yates
press(at)dnaspectrum(dot)com
1.800.471.6164
18444 N 25th Ave,
Suite 420-653,
Phoenix, AZ 85023,
United States