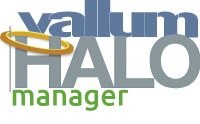 MSPs are constantly looking for more cost-effective and innovative ways to service their customers. The pricing and support of this program will provide an attractive solution alternative for many of them.
Naples, FL (PRWEB) November 26, 2014
Vallum Software today announced a new partner program to support Managed Service Providers (MSPs) providing network monitoring and management services to customers who are looking to enhance or replace their existing MSP-based solutions. This new initiative delivers a discounted MSP package with special technical support, along with new technical documentation for MSPs of all types.
Vallum's solution, Halo Manager, is a web-based network monitoring and management program for servers, workstations, and applications including the capability to monitor any network asset with an IP address. Halo Manager downloads and installs in minutes and the MSP version can be easily rebranded to reflect the look and feel of the MSP user interface (UI) with full support for the MSP customer experience. Halo Manager can monitor any deployment type, including Software as a Service (SaaS), Infrastructure as a Service (IaaS), and Platform as a Service (PaaS).
Halo Manager, by default, provides device discovery, response time and availability. With the installation of the Vallum Halo Manager polling agents, further metrics are available including from CPU, Disk, Network, Memory, Process, and Service monitoring. The Halo Manager agents are low-profile and designed to run autonomously at MSP customer sites, gathering metrics and periodically performing device discovery to check for newly added devices. Metrics and data are securely delivered to a Halo Manager centrally located at the MSP's operation center.
Halo Manager polling agents offer a unique application architecture
Vallum Halo Manager is built on a unique architecture framework that delivers the bulk of the solution's functionality at the agent level within specialized applications. These applications are easily created and can be remotely installed or uninstalled without any disruption to other functions of the Halo Manager. As part of the MSP initiative, several of these Halo applications will be made available to MSPs. They will include remote software installation and launch, email alerts and status reports, as well as other security applications.
"The Halo Manager is a great solution for MSP environments due to its small footprint, range of scalability and ease of deployment and use," said Lance Edelman, director of the Vallum technology. "Vallum Halo Applications allow MSPs much greater flexibility to provide a greater range and granularity of services to their customers that are not possible with existing vendor solutions on the market."
In addition to furnishing and supporting the Halo Manager, Vallum will provide technical assistance in adapting the manager for the specific requirements of MSPs, using simple HTML adaptations, and a comprehensive Software Development Kit for PHP.
Edelman added further: "MSPs are constantly looking for more cost-effective and innovative ways to service their customers. The pricing and support of this program will provide an attractive solution alternative for many of them."
More information on this program including an FAQ on Halo Manager's special role in managing remote MSP cloud networks is available at vallumsoftware.com. Vallum encourages MSPs and other Independent Software Vendors (ISVs) to reach out with their special requirements and plans, to begin a confidential discussion. You may submit a request here.
About Vallum Software, LLC
Vallum Software is a provider of end point management solutions at a price point favorable for small-to-medium sized businesses. Our flagship product Vallum Halo Manager, is an agent-based availability monitoring solution specifically manufactured for the small-to-medium sized business (SMB) market. Halo Manager is free to download and try for 30 days with no functionality limitations. A perpetual Halo Manager license ships with the Halo management dashboard – viewable on any standard web browser – plus one Halo Manager polling agent, capable of monitoring up to 256 IPs, along with Vallum Software support.
Further information on the Agent API, libraries, programming techniques, code samples, and additional application notes are available at the VallumSoftware.com and GMI-Foundation.org websites. Application developers are encouraged to contact our organization at the information below, or consult with one of our technical partners.