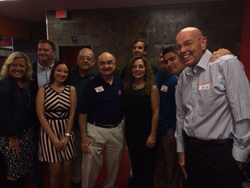 (PRWEB) December 04, 2014
La Granja Plantation's Veteran's Appreciation Dinner took place at the La Granja restaurant located at 1895 N. Pine Island Road in Plantation. Many came to show their appreciation and support of those who fought and sacrificed for our country, and for those who are actively serving in the United States military today.
The event brought representatives of well-known Spanish magazines into attendance, including Almueroz y Cenas, and Conexiones. The food was plentiful and delicious, and the event was hosted by La Granja owners Gustavo Bartra Jr., and Claudia Bartra, who credits her family's dream and hard work for the creation of La Granja, which is now the largest family style, Peruvian chain restaurant in the world specializing in Pollo a la Brasa, La Granja's famous Peruvian rotisserie style chicken. The success of La Granja Restaurants enables Claudia to give back to the community, and honoring United States veterans on Veteran's Day is one of the ways she gets to do just that.
La Granja Plantation: One of 40 family style Peruvian restaurant locations for Floridians to enjoy.
La Granja Restaurants began in Aruba in 1993, an island that Claudia's Peruvian family visited often, and now it is the home of two La Granja restaurant locations. The chain opened up in the United States, or as Claudia refers to it, 'the land of opportunity', in 1995. Family owned, Claudia's father, Gustavo, along with co-founders, Racso Bartra and Gustavo Bartra Jr, founded La Granja Restaurants. The family built up much of their business during the recession, by providing families in the community with a place to go where they could still afford to eat out together, even during tough economic times. The cornerstone of Peruvian culture is food and family - families spend time together when they are sharing meals together. Honoring Peruvian tradition, it has always been a mission of La Granja Restaurants to serve high quality food in a family friendly setting, for a budget friendly price.
La Granja serves a variety of authentic, slow cooked Peruvian dishes on their sizable menu, from Pollo a la Brasa, to grilled steak, pork, and ceviche. La Granja prides itself on every dish being carefully prepared from scratch, using fresh, local ingredients. All of the La Granja restaurant locations, including La Granja Plantation, run great lunch and dinner specials for its loyal patrons to take advantage of. This widely favored, family style Peruvian restaurant offers quick and convenient service for busy families, with family style to-go portions.
La Granja Plantation: As demand continues to grow for fresh, homemade Peruvian specialties, La Granja Plantation is one of many locations where Floridians will be able to satisfy their craving for Peruvian cuisine.
Even during periods of recovery and prosperity, Americans still look to save money when dining out. La Granja welcomes families with a friendly staff and efficient service, along with modest prices. With lunch specials that start at under $5.00 for a generous portion of rice, beans, and Pollo A la Brasa, with service that is lunch hour friendly, this perfect experience at La Granja can't be beat. Visit La Granja Plantation for your delicious Pollo a la Brasa, at 1895 N. Pine Island Road in Plantation, or visit: http://www.lagranjarestaurants.com/locations.php for a location nearest to you.