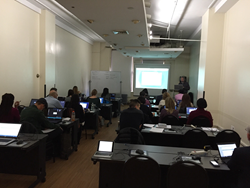 Each student expressed great gratitude for the class and many passed on positive remarks ...
Los Angeles, CA (PRWEB) November 26, 2014
AIMS 360, the apparel industry's leading fashion software hosted their New York Certification Training Class November 10-12. In attendance were key people from 30 top apparel companies around the Eastern Region. The three day class, taught by Scott Allen (Director of training for AIMS360), offered an in-depth live training of the NEW AIMS360 apparel ERP software.
In the three days, attendees learned how to use key areas of the software such as distribution, manufacturing and wholesaling. The class touched base on important functions within AIMS360 and of an apparel business including costing/retail math, spec sheets, order entry & distribution, inventory management, pick tickets, invoicing, and much more. On the last day of class, these industry experts were given the certification exam, and those that passed received an AIMS360 Certification. "Each student expressed great gratitude for the class and many passed on positive remarks as to how beneficial the class was and how they will be able to incorporate it into their job.", said Chris Walia, AIMS360 Director of Business Development & Marketing.
With many positive comments and class attendees telling peers about the benefits of live-training, AIMS has already received many requests for another NYC Certification Class. "We will be announcing our next New York AIMS360 Certification Class in the next few weeks" says, Shahrooz Kohan, COO of AIMS 360.
About AIMS360
AIMS360 offers the most robust and fully integrated apparel inventory software solution for importers, distributors and manufactures of apparel, footwear, accessories, and other fashion related goods. With over 30years of experience, AIMS ties cutting-edge technology with all facets of your business. AIMS 360' product suite is comprehensive, feature-rich, user-friendly, easy to implement, and is compatible on a laptop, PC, Mac, iPad and any Windows 8 devices. Solutions are available for on-site applications and in the cloud.
The AIMS360 apparel ERP system offers complete inventory management, time and action, multiple windows, high-level dashboards, business intelligence, custom reporting and much more. Solutions are available in the Cloud or for on-premises. The Cloud-based AIMS360 reduces costs and utilizes the latest .NET and Microsoft SQL platforms. AIMS is the only software being taught in schools and universities across the nation.
AIMS is a Microsoft Partner and Gold Competency Holder in Application Development, Data Platform and Mobility and, a QuickBooks Gold Developer. The AIMS360 inventory-management system provides the most professional and up-to-date applications including: AIMS RemoteLink (order taking on the go for iPad and Windows 8 Devices), AIMS EasyShop (online retail shopping cart), AIMS WebLink (online wholesale shopping cart), AIMS GL Integration/POS Integration with QuickBooks, UPS/FedEx/USPS shipping integration, AIMS360 Enterprise Business Intelligence, and simple EDI integration. Connect AIMS 360 with any third party solution (JOOR, NuOrder, Brandboom, Shopify, and Magento to name a few).
Whether a small, medium or large business, AIMS360 is the most robust and affordable ERP system in the industry. No other apparel ERP system is built on the most advanced technological platforms like ours. Grow your business and increase your ROI, get the industry's leading ERP software, AIMS360!
To learn more about the AIMS360 Certification Class and for your FREE demo of the AIMS360 software, contact us today and see why so many clothing manufacturing, wholesaling, importing, and other types of apparel businesses rely on AIMS360!
Call 310-361-5710 or 646-873-7675 | info(at)aims360(dot)com | http://www.aims360.com