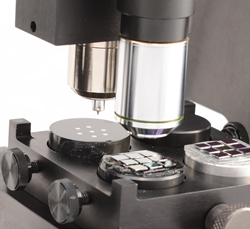 Our product portfolio of quality, easy to use surface analysis and imaging instrumentation offers unique synergies for the iNano.
Phoenix, AZ (PRWEB) December 02, 2014
Nanoscience Instruments announced an exclusive distribution agreement with Nanomechanics. Nanoscience Instruments will market and sell the iNano in North America through an exclusive partnership that teams the strengths of each company. The new iNano is a cutting-edge instrument that provides accessible and user-friendly acquisition of mechanical properties through nanoindentation.
"Nanoscience Instruments' vision and market position aligns perfectly with our product placement," states Sebastian Ward, VP of Sales and Marketing for Nanomechanics. "Nanoscience Instrument's position in the market, with world class products at prices accessible to a wider range of customers, makes them ideal partners for us."
The iNano is an easy to use nanoindenter, providing superior displacement measurements using leading edge technology. The iNano nanoindenter was developed by Warren Oliver, an inventor of the first commercial nanoindenter. The iNano has world-class specifications to provide best-in-industry performance while offering ease of use and affordability, traits not available by other nanoindentation products on the market.
"We are extremely excited to add the iNano to our offerings and partner with the experts in nanoindentation," explains Mark Flowers, co-founder of Nanoscience Instruments. "Our product portfolio of quality, easy to use surface analysis and imaging instrumentation offers unique synergies for the iNano. Adding quantitative materials analysis extends our capabilities in thin films, coatings, metals, ceramics, biomaterials, and many other application areas, providing our customers with unique and practical solutions."
The iNano is on exhibit this week at Booth #522 of the Materials Research Society Fall Meeting & Exhibit in Boston, Massachusetts.
To learn more about this product, please call us at 888-777-5573 or email us at info@nanoscience.com.
About Nanomechanics, Inc.
Nanomechanics, Inc. was founded in 2009 and provides instrumentation, lab services and consulting to a broad range of clients in academics, research, and industry. The staff at Nanomechanics pioneered the Nanoindenter in the 1980's and have been at the forefront of nanomechanical testing for 30 years. Applications for Nanomechanics' products and services include materials science, semiconductors, biomaterials, polymers, MEMS, nanofabrication, nanostructured materials, thin films, coatings, and a variety of other research and commercial interests.
About Nanoscience Instruments
Nanoscience Instruments, an industry leader providing turn-key scientific instruments to investigate the micro- and nanoscale world, provides surface science, microscopy and nanotechnology solutions that are easy to use with low maintenance.
Nanoscience Instruments' product portfolio includes desktop SEMs, portable AFMs & STMs, 3D optical profilers, nanoindenters, and micro-mechanical testing systems, as well as consumables and accessories. More information is available from the Nanoscience Instruments website: http://www.nanoscience.com, offering tomorrow's solutions, today.