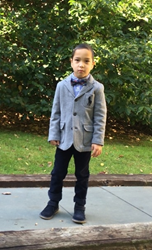 Often adults will converse with children in a much more intelligent and respectful way when they are dressed up.
Philadelphia, PA (PRWEB) December 24, 2014
This week there will be celebrations all across America and the world. We celebrate these times with a beautiful meal and we invite our friends, our family, and often those who are in need to join us and rejoice.
Conduct
Children love structure and order. They hate chaos and not being able to predict what is going to happen next. Make a plan. Write a schedule of what is going to happen and when it is going to happen. Include a list of what you and your child may want to bring to the event, such as books to read in the car or at Grandmother's house, puzzles, and drawing materials. Help your child to think of some nice surprise to take to Grandmother­–flowers, a drawing, or something made at home. Have your child present this gift right as you arrive so that your child can put his best foot forward right at the start. Leave any and all electronic devices at home. Write simple Dos ("Help Grandmother") and Don'ts ("No running in the house"). Use big print and hang it on the wall. Walk your child through the schedule, the list, and the Dos and Don'ts well before the event so that he understands them.
Clothing
This holiday is a wonderful opportunity for your child to learn how great it is to get dressed up. With everyone living in blue jeans these days, children have little opportunity to learn the importance of looking like a million dollars. When a little boy wears a coat and a tie and a little girl wears a beautiful dress, both will be greeted by friends and relatives as if they are all grown up. Often adults will converse with children in a much more intelligent and respectful way when they are dressed up. Children are very sensitive to the way adults talk to them. They will put on their best behavior when they are treated with respect. Teach your child to dress up because it honors the event and the wonderful people who have made that event possible.
For Parents of Children with Special Needs
Make first impressions matter. When you and your child go into a social situation make sure your child is the best dressed child in the room.
Food
We know how careful you are to provide the very best food for your child. But parties and other holidays often mean a visit to grandparents, aunts and uncles, or friends. Relatives and friends do not always share the same philosophy that you do when it comes to food. When you know there is going to be a lot of food that your child should not eat and that might actually jeopardize his health or well being, the best thing to do is to feed your child a hefty, wholesome meal before you leave your house. Unlike most adults, children do not overeat. Once you have filled your child up with good, healthy fuel at home, that real estate is taken. There simple won't be much space left for anything else. You can also tuck some healthy treats into your bag to offer if your child does get hungry. It is so much easier and more diplomatic for your child to be able to say honestly, "I'm sorry I already ate" rather than "I can't eat that!"
Problem Solving
The best policy is always prevention. A well-fed and well-rested child is much more likely to be a civilized child. A tired, poorly fed child can be a wreck at a social gathering. Small children are almost always hypersensitive to sounds, so large, noisy gatherings are hard for them to deal with for long periods. You know your child, so set him up for success. Feed him very well before the event and make sure he gets a good night's sleep and a nap. Be realistic about how long you will stay at the event. If he can take a nap there, arrange for that. If he is getting wound up and needs "downtime," have him sit quietly on your lap and read a book to him to help him relax. If there is a problem, take him to a quiet, private spot to deal with it. This eliminates any opportunity for blackmail. No one knows better than your child that he can make you look foolish in front of your relatives. Avoid evaluating for him ("I know you are tired" or "I know you are angry"). No, we do not know that. This is likely to escalate an upset, because we are often wrong. Even a screaming child is more likely to calm down if you whisper quietly in his ear, "I will help you but you need to tell me what is wrong." A tiny child who is not yet speaking fluently will respond well when given choices: Hungry? Tired? Thirsty? Other? Smart parents often establish a "penalty box" or, (as we prefer to call it) a "tranquility box" as soon as they arrive at grandmother's house or the restaurant. This is the spot that is designated in the event that your child steps out of bounds and needs a brief "time out."
"We are excited to be able to offer families and parents a source of support and community, accessible anywhere in the world," continues Doman. "We have already seen the positive and transformative effects that The Pathway to Wellness has achieved in helping families of brain-injured children, and we hope to help thousands of families across the globe."
To sign up for The Pathway to Wellness, a revolutionary online portal to help parents with special needs kids, visit http://www.iahp.org/pathway-to-wellness/.
To get more information on what other families are doing at The Institutes, including classes for parents such as the How To Multiply Your Baby's Intelligence Course, interested parents can sign up for The Institutes' Newsletter.
ABOUT
The Institutes for the Achievement of Human Potential
The Institutes for the Achievement of Human Potential is a group of non-profit institutes founded by Glenn Doman in 1955. The Institutes is internationally known for its pioneering work in child brain development and for its programs to help brain-injured children achieve wellness.
Glenn Doman authored the ground-breaking book "What To Do About Your Brain-injured Child", which was translated into a dozen languages and has been used successfully by thousands of families to help their hurt kids get better and "How to Teach Your Baby to Read" the bestselling classic--with more than one million copies sold in hardcover.
The Institutes serves children from all over the world. The international headquarters is located in Philadelphia, Pennsylvania, USA. Approved branches of The Institutes are the European Institute in Fauglia, Italy and The Doman Kenkyusho in Tokyo and Kobe, Japan. Official offices of The Institutes are in Aguascalientes, Mexico, Madrid, Spain, and New Delhi, India. The Institutes gives courses for parents in Philadelphia, Italy, Japan, Mexico, Singapore, Spain, Russia, Australia, and India.