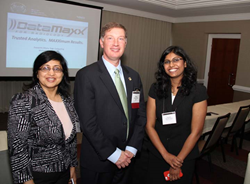 No other organization has provided me with updates, guidelines, products and services that are as relevant to the everyday operations of my radiology practice.
Fairfax, VA (PRWEB) December 02, 2014
With industry leading online and in-person educational offerings, valuable business tools, targeted political advocacy and much more, the Radiology Business Management Association (RBMA) has accelerated careers and improved the performance of members' businesses for more than 45 years. During its annual membership drive, the RBMA is encouraging existing members to renew and potential new members to join with a simplified online renewal process and a discount for new members.
"We've never offered a better array of member goods and services," noted Michael Mabry, RBMA's Executive Director. "The quality of the services we offer to members continues to improve year after year."
RBMA has a tiered membership structure where radiologists and other employees of the group or facility the primary member belongs to can join under the primary member's account. As long as the primary member renews first, most prospective members can use the easy online renewal option at http://www.rbma.org/renew/. Membership type changes can be done by phone at (888) 224-7262.
New members can also sign up online, and if they act now, they get immediate access to the benefits of being an RBMA member without being charged for the remaining month of 2014. Their link to get started is http://www.rbma.org/Membership/.
RBMA's 2015 members will have access to:

Exclusive business data and statistics only available to RBMA members
This includes the latest modules in DataMAXX, RBMA' practice analytic solution. DataMAXX allows users to compare themselves with peers in near real time. In addition, the RBMA conducts member mini-surveys with valuable benchmarking performance information only offered to members.

High-quality, flexible educational resources
From the Fall Educational Conference and the RBMA Radiology Summit to the new RBMA U courses, the RBMA has both advanced educational offerings and introductory material to help any radiology professional become more proficient in his or her career.

Radiology business-specific news
RBMA members receive RADCAST, its weekly electronic newsletter reporting RBMA events and industry news, as well as the bi-monthly RBMA Bulletin, a print journal covering the current state of the industry.

Political leverage and advocacy
RBMA members get e-Alerts and other updates to keep them current on the latest legislative and regulatory developments affecting their businesses and RBMA is their collective voice on relevant issues to legislators and regulators.

Career advancement resources
From finding talented managers to locating their own next career opportunity, the RBMA's full-service Career Center helps members advance their careers. In addition, through the MentorMatch program, the RBMA can assign a seasoned manager to a practice that requests help. The Association also offers scholarships to RBMA educational events and runs a fellowship program where members may earn the prestigious Fellow of the RBMA (FRBMA) distinction based on educational achievements, years of membership, professional service and contributions to the profession.

A community of peers ready to help
In addition to national meetings, the RBMA's specialty seminars, and local state and regional chapter meetings connect members with other radiology business leaders who face the same challenges. Active online forums on topics such as coding, marketing, practice management, hospital practices, payor relations and radiology integrated models make it easy to consult colleagues in the field about questions.
"RBMA equals value," said Carol Hamilton, MBA, SPHR, FACMPE, of West County Radiological Group Inc. in St. Louis, Mo. "No other organization has provided me with updates, guidelines, products and services that are as relevant to the everyday operations of my radiology practice."
About RBMA
The Radiology Business Management Association (RBMA) is a national not-for-profit association providing members with applied business information and intelligence applicable in any radiology setting. The RBMA has approximately 2,300 members involved in various management capacities in private practices, academic radiology groups, imaging centers and hospitals. The RBMA continues to be recognized as the leader for radiology-specific educational programs, products and services, publications and data.