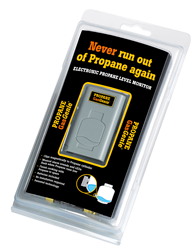 They say that a picture is worth a thousand words. I hope a video will be worth even more than that!
(PRWEB) November 26, 2014
It is a well known fact amongst gas engineers and physicists that the pressure in a tank of propane is solely dependent on its temperature. The volume of liquid in the tank has no affect on the pressure. This means that whether a tank is full or nearly empty the pressure will show the same. Only when the last drop of liquid has been used up does the pressure begin to drop. This is because propane in a BBQ tank is a liquefied gas and behaves quite differently to, for example, air.
Most people's experience is with something like pumping up a car or bicycle tire. As more air is pushed in the pressure continues to rise. So naturally they assume the same is true of propane and then go on to buy a pressure gauge for their BBQ tank. But they soon discover that the pressure only shows a significant drop just a few minutes before it runs out completely. And then they are back to the same old problem they were trying to avoid: Running out of gas in mid grill.
This strange fact about propane can be easily demonstrated by attaching a pressure gauge to a full and nearly empty tank and noting that the pressure gauge shows the same pressure. But unless you know the physics facts you would not think of trying this test. So in order to get this information out to a wider public CEP came up with the idea to host a competition for the best video that shows that pressure has no relationship to volume remaining. The first prize is $250 and a gift of a Propane GasGenie with 12 runners up receiving a Propane GasGenie.
The competition entrants will be judged on three main criteria: Clarity of message, humor, and social media spread such as likes or votes. To find out more anyone interested in entering should visit our blog page.
Peter Frank of CEP says 'I have been trying to explain this physics fact ever since I was approached by a large US grill manufacturer to come up with a solution to the problem of an early warning for grillers. They understood that pressure was not the answer. I hope the competition will have the effect that many more people become aware that pressure is not a good way to gauge capacity remaining. They say that a picture is worth a thousand words. I hope a video will be worth even more than that!'
About Creative Electronic Products Inc.
CEP was founded in 2013 to search worldwide for unique and useful products to bring to the US market. The Propane GasGenie is their first product. It is sold on Amazon and also to retailers and manufacturers reps throughout the US.