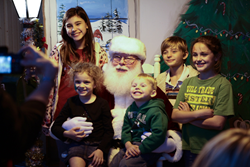 What makes this festival a one-of-a-kind event is that the admission, games and performances are free of charge for all festival attendees to enjoy
Shreveport, LA (PRWEB) November 28, 2014
The Christmas on Caddo Fireworks Festival will celebrate 20 years of holiday fun on Saturday, Dec. 6 at Earl G. Williamson Park in Oil City, La. Activities kick off at 3:30 p.m. with arts and crafts, food vendors, live music, performances by local entertainment groups and more. A fireworks show by Durr's Pyromania Fireworks of Bossier City will begin at 6:30 p.m. Admission is free.
"What makes this festival a one-of-a-kind event is that the admission, games and performances are free of charge for all festival attendees to enjoy," said Mary Dunn, president of Christmas on Caddo Fireworks Festival. "Locals and out-of-towners alike look forward to this holiday festival – it's something that the community can be proud of."
Festivalgoers will have the chance to admire artwork from local artists, shop at arts and craft booths and dine on a variety of fair-style food, including gumbo, red beans and rice, Louisiana-style chili and more.
The entertainment lineup features performances by local groups such as the Sweet Potatoes Band (Oil City Elementary Magnet), Tristian Fincher, Penny McCurdy, the Tigerettes Dance Line (Oil City Elementary Magnet) and more, as well as a headlining performance by Travis Whitehead and the Divided. Travis Whitehead and the Divided will perform immediately before the fireworks.
Children's activities will include clowns, games, and a visit with Santa Claus, during which each child will receive an early Christmas gift from Santa. Photos with Santa are $5.
For more information about the Christmas on Caddo Fireworks Festival visit http://www.christmasoncaddofireworks.com or contact Mary Dunn at [email protected] or by calling 318-631-0182.