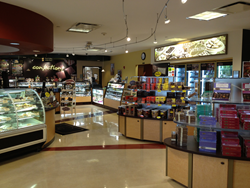 Grand Junction, Colo. (PRWEB) December 01, 2014
The Grand Junction Visitor and Convention Bureau (GJVCB) invites visitors to enjoy some holiday shopping in Colorado's Wine Country with seven great gift ideas to make this year's holiday gift-giving simple and sweet.
Downtown Grand Junction offers locally-produced merchandise such as clothing, jewelry and art from over 100 independent businesses. The largest indoor mall in western Colorado, Mesa Mall, lies just down the road next to other big name-brand stores for additional merchandise. Whatever the shopping style, Grand Junction combines exploration and gift-giving for one fun experience. For a ready-made shopping list, check out these seven gift ideas:
Explore: Loki's
Loki is the maker of the first outerwear with built-in mitts and face shields. These convenient features are unnoticeable when not deployed but are at the ready when hard winter weather hits. Fun fact: The President, first lady and girls were given Loki jackets when they toured Grand Junction.
Give: Grand Junction-made winter jackets, mitts and hats.
Explore: Enstrom
The world-famous almond toffee of Enstrom Candies is a hand-crafted confection. From its humble beginnings in a small-town Colorado candymaker's kitchen, Enstrom's toffee has become a world-class, internationally-known confection. Still made from the traditional recipe which was lovingly handed down from generation to generation, this luxurious toffee has evolved into the go-to gift for candy connoisseurs.
Give: Enstrom's world-famous almond toffee – milk or dark chocolate – turtles and truffles.
Explore: Colorado's Wine Country
The Grand Valley is home to more than 20 wineries and vineyards that offer some of Colorado's best wines as well as wine tasting and tours – and a singular holiday shopping experience.
Give: A private labeled bottle of your favorite Colorado wine as offered through Grande River Winery. Or, give the gift of a wine club! For example, members of Two Rivers Winery receive two bottles of selected wines every quarter.
Explore: Downtown Grand Junction
Retail therapy is a gift in and of itself with a Grand Junction Downtown Gift Card! Cards are valid at 100+ downtown businesses, from spas, entertainment, retail, restaurants and beyond. They can be purchased in person at the Downtown Grand Junction office at 437 Colorado Ave or online.
Give: Grand Junction Downtown Gift Cards
Explore: Sprigs & Sprouts Lavender Farm
Sprigs and Sprouts of Western Colorado is the local source for one of the newest and fastest growing industries in western Colorado – lavender. The Grand Valley's high altitude and dry climate provide ideal conditions to grow the highest quality lavender possible. A unique gift shop on Sprigs & Sprouts lavender farm is filled with gift-ready lavender products, in addition to local pottery, artwork, candles, flavor-infused vinegar and olive oil, gourmet cheese and butter, jams and jellies, honey and much more!
Give: Grand Junction-grown medicinal and culinary lavender
Explore: Colorado National Monument
Give the gift of exploration! Colorado National Monument preserves one of the grand landscapes of the American West. Sheer-walled canyons, towering monoliths and colorful formations reflect the environment and history of the plateau and canyon country. The monument is a playground for year-round activities such as backpacking, bicycling, camping, hiking, rock climbing and wildlife viewing. This pass can be purchased for $25 at either park entrance and is good for one year from purchase.
Give: Colorado National Monument season pass
Explore: Grand Junction orchards
Delicious locally grown produce is available from orchards all around Grand Junction. Many of these orchards specialize in packaged fruit products including canned apples and peaches, peach jams, salsas, syrups, apple sauces, ice cream toppings, pie fillings and dried fruit assortments – all tasty stocking stuffers or holiday party fare!
Give: Homemade Peach Jalapeño Jam made from High Country Orchard's famous peaches
Shoppers can take a break from the stores for rejuvenation at one of the area's spas and salons and follow up with a meal at one of many local dining spots. For more information on these and other activities, as well as lodging and events, visit http://www.visitgrandjunction.com.
About Grand Junction (http://www.visitgrandjunction.com)
Nestled near 11,000-foot Grand Mesa and the 7,500-foot Book Cliffs, Grand Junction is the largest city in western Colorado. At an altitude of 4,586 feet, warm summers and moderate spring, fall and winter seasons allow for year-round golf, hiking and biking. Boasting more than 275 days of sunshine annually, Grand Junction recently was named one of the eight sunniest cities in the United States by TourismReview.com. Among Grand Junction's spectacular red cliffs and winding canyons are the Grand Mesa, the world's largest flat-topped mountain, the Colorado National Monument, Bookcliff Wild Horse Area, two national scenic byways and five golf courses. Grand Junction lies in the heart of the Colorado-Utah Dinosaur Diamond. The area also is home to Colorado's wine country, with nearly 30 vineyards and wineries.