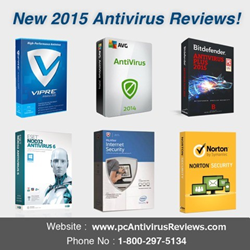 Consumers need to know there are choices. Real choices. Better choices.
Redondo Beach, California (PRWEB) November 26, 2014
Many consumers will make a huge mistake with their PCs this holiday season. That mistake? Thinking their pre-installed antivirus software is doing its job.
"Most antivirus software that comes pre-installed on PCs is garbage," says Kevin R. Smith, Editor of pcAntivirusReviews.com. "It's only there because that particular antivirus company worked the best deal with that PC manufacturer. More often than not you can bank on three things: it's slow, it's ineffective, and it has crappy tech support."
In response to the recent surge of spyware and computer virus threats – including the infamous "Dark Hotel," which targets wealthy hotel Wi-Fi users – pcAntivirusReviews.com is releasing a series of free early reviews of the new 2015 antivirus software packages in time for holiday gift-giving, including VIPRE, ESET, Norton, BitDefender, McAfee, and Kaspersky, whose security lab assisted in detecting the "Dark Hotel" computer virus.
"Consumers need to know there are choices. Real choices. Better choices. They don't have to tolerate the crapware that comes with their PCs," advises Smith.
Unlike other review sites, pcAntivirusReviews.com gives consumers the complete picture of different antivirus programs. Rather than just measuring antivirus software's ability to remove viruses, pcAntivirusReviews.com also looks at other important things like:

Real-Time Virus Prevention
System Performance
Technical Support
Ease of Use
"People expect to be able to shop and do things online safely," Smith added. "Unfortunately, people tend to put their guard down during the holidays. This breeds virus and spyware activity. The challenge is in helping consumers do the things they want to online safely. Add to that PCs with second-rate antivirus software, and it really is a challenge. We aim to level the playing field for consumers with our reviews."
ABOUT pcAntivirusReviews.com:
pcAntivirusReviews.com provides comprehensive reviews, ratings, and comparisons of major antivirus software. Using in-house computers, laptops, tablets, and more, pcAntivirusReviews.com evaluates the software's features, performance, and effectiveness for home and business applications, then reports the results.