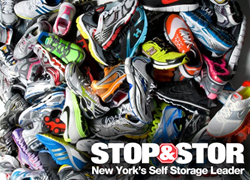 Maybe it's time to store like a pro while saving space, money and headaches.
New York, NY (PRWEB) December 01, 2014
American kids across the country are back in school and that means one thing: Fall Sports season! Some activities that children may be interested in participating in and the equipment needed are:

Track & Field: Sneakers-sneakers-sneakers! Did someone mention sneakers? Training, rest, game day & every day. Plus an endless array of warm-up clothing and gym bags. All that's needed are some good cross country running shoes and gym clothes.
Football: Football is a high-contact sport; make sure children have the appropriate padding, helmets, and more padding.
Golf: Golf requires clubs, balls, and several pairs of shoes to get children through any kind of weather. Also keep in mind that many golf clubs require players to observe a strict dress code, such as always wearing collared shirts or shorts of a certain length.
Swimming: Get an athletic swimsuit, goggles and a swim cap, everyone's ready to hit the pool!
Volleyball: Volleyball is typically not as risky as high-contact sports like football, but it still calls for certain safety equipment. At a minimum, be sure that all players have elbow and knee pads to protect their joints.
No matter what sport children play, remember that it is crucial to be informed about the signs and symptoms of a concussion.
As parents with athletic kids who like to participate in a variety of sports know just how much space all of that gear can take up! Don't let it crowd the house all year long. Instead, put out-of-season equipment in a storage unit at Stop & Stor.
Be aware, the garage can be a hot spot for clutter and mess. A few boxes of sports equipment here, some scattered tools there and all of it looks like a war zone.
It doesn't have to be that way, though. Here are some helpful ideas for garage storage and organization. What's great about the garage is that it lends itself to some creative and unique storage solutions. Let's take a look:
Shelving
Putting up shelving is certainly a DIY project, but it's incredibly useful for storing the small things. The heavier or more bulky the item on the shelf, the more work will go into securing it to the wall. If there is a weekend or more to kill, it will certainly save space in the garage.
Ceiling storage
Going along with the idea of saving space, overhead ceiling storage can certainly help with that. It sounds simple to just toss a few racks up there and store some bins up and watch the space open up. This is another DIY project so make sure to secure these tight so it doesn't fall on the car!
Convenient Bike Storage
Storing bikes can be a space eater, but a few well-placed racks can help out big time. Just remember to watch the head when passing the bikes hanging up. Ouch!
Bungee Cord Athletic Equipment Storage
When all else fails, use bungee cords to secure equipment. Although this may mean having a giant multi-covered spider web in the home, or have fun detangling those knots that are sure to pop up.
So those are just a few simple ideas for garage storage Packing and Storage Tips of sports equipment. Or…. Maybe it's time to store like a pro while saving space, money and headaches – Call New York's Self Storage Leaders – Stop & Stor, today.