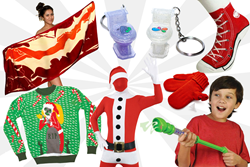 This Hillary Clinton figurine has thighs of steels, perfect for cracking even the toughest nuts.
Los Angeles, California (PRWEB) December 01, 2014
Since 1998, Stupid.com has searched high and low for the most ridiculous gifts imaginable. This year's list is sure to be the most comprehensive list of all things stupid since, well, last year's stupid list. For a complete list of funny Christmas gifts visit Stupid.com. Here are the Top 10 Stupid Gifts of 2014, listed in no particular order:
Santa Morphsuit – Who says Santa has to be fat? Show off that hot Santa body with this form-fitting spandex morphsuit made to look like Santa. It even comes with a face-covering mask and Santa hat.
Fartzooka – The Fartzooka blasts farts just as well, if not better, than even the gassiest human. The best part is that the Fartzooka never gets tired so it can blast farts 24/7.
The Bacon Towel – Printed on this fun towel is a 6-foot long strip of juicy bacon! This tasty towel is great for anyone who has always wanted to wrap himself (and everybody else) in the yummy, mouth-watering, crispy bacon.
The Stupid Alert Button - Wouldn't it be nice if an alarm went off anytime someone did something stupid? This dream is a reality with the Stupid Alert Button, which loudly declares 6 different phrases when pressed, like "That was SO Stupid!", "Stoooopid!", or the ever-popular, "You're Stupid!"
Mitten Flasks – Make the holidays taste a little sweeter with these mittens. On the outside they may seem like ordinary mittens, but hidden under a thumb flap is a spigot which connects to a pouch, perfect for holding any liquid.
Sneaker Socks – These revolutionary socks have high top sneakers printed right on them. Available in blue and red, these socks will make shoes a thing of the past! Why wear shoes when one can wear socks that look like shoes?
Face Basketball Glasses – Attached to these glasses are a basketball hoop and a basketball. Simply put them on and try to make the basket by moving one's face all over the place. Sure they might look ridiculous to wear, but after a few days of practice, anyone will be able to slam dunk with a single face twitch.
Hillary Clinton Nutcracker – This Hillary Clinton figurine has thighs of steels, perfect for cracking even the toughest nuts. From the First Lady of the United States to the Secretary of State, and now an official nutcracker, Hillary has done it all.
Ugly Christmas Sweater: Zombie Santa – Whether it's for someone naughty or nice, this snazzy sweater brings the laughs with its tacky design and bizarre style. With candy canes on the sleeves and Zombie Santa in front, this sweater is sure to spread holiday cheers and jeers.
Toilet Bowl Lip Gloss – Lip gloss in a sparkly toilet bowl? Who would have known that girls of all ages would love Toilet Bowl Lip Gloss, available in Grape, Lemon, Apple, and Strawberry scents, and complete with a nifty keychain.
All these stocking stuffers and more can be purchased at Stupid.com and select gift shops nationwide.
About Stupid.com
Stupid.com has been spreading laughs one gift at a time since it burst onto the online retail scene in 1998. From great gag gifts to silly stocking stuffers, the company offers a diverse selection of over 4,000 products in 120 gift categories.