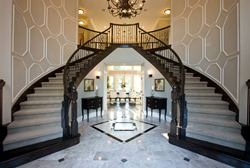 It will be an amazing afternoon where everyone can celebrate and get excited for the holidays.
Austin, Texas (PRWEB) November 26, 2014
Just in time for the holidays, the charming Leander community of Travisso will host its All That Glitters - A Holiday Soiree event on November 30, complete with special surprises, treats and fun activities for all to enjoy.
Kick off the holiday season as Santa arrives in a Maserati to visit with kids and take photos throughout the event. Take advantage of an array of goodies and exciting interactive activities to get everyone in the spirit, and relish in the excitement of the festivities while enjoying the sounds of holiday tunes played by live performers. It's all part of a fun-filled holiday experience at Travisso.
"It will be an amazing afternoon where everyone can celebrate and get excited for the holidays," said Heath Melton, director of land development for Travisso. "We hope that people will come out, enjoy themselves, and get into the spirit of the season at Travisso."
People of all ages looking to get into the swing of the holidays are invited to join Travisso for the event, which runs from 1 to 6 p.m. There will be plenty of holiday-themed games, Melton said, as well as a chance to indulge in delicious treats and beverages such as wintery Italian beverages, cookies and cupcakes, all while enjoying live entertainment.
In keeping with the season, Travisso will help raise donations to keep Austin kids warm this winter as Santa turns his Maserati into a drop-off location to collect donations for Coats for Kids, sponsored by Junior League of Austin, Jack Brown Cleaners, KASE 101 and KVUE. Celebrating its 28th year, Coats for Kids is one of the largest coat drives in the nation and plans to distribute more than 35,000 winter coats to children in need in Central Texas this year.
"It's an opportunity for all of us to give back to those in need," Melton said.
Kids will receive a special surprise when a famous snow queen and her sister from a winter wonderland make an appearance to hand out special holiday gifts for the children and as the evening draws near, there will be glowlight giveaways as the community prepares to light up the night and wind down in glittering style.
"Can you think of a better way to jump start the holiday season?" Melton said.
Travisso features 10 model homes from five respected Austin builders including Taylor Morrison, Toll Brothers, Drees Custom Homes, Highland Homes and Grand Haven Homes. Prices start from the $200,000s.
The 2,100-acre master-planned community Travisso in Leander is situated in Texas Hill Country, west of Austin and just north of Lake Travis and is located at 18088 FM 1431, Leander, TX 78641.
For a full schedule of events or more information about Travisso, please visit http://www.travisso.com.
About Taylor Morrison
Headquartered in Scottsdale, Arizona, Taylor Morrison Home Corporation operates in the U.S. under the Taylor Morrison and Darling Homes brands and in Canada under the Monarch brand. Taylor Morrison is a builder and developer of single-family detached and attached homes, serving a wide array of customers including first-time, move-up, luxury and 55+ or better. Taylor Morrison divisions operate in Arizona, California, Colorado, Florida and Texas. Darling Homes serves move-up and luxury homebuyers in Texas. Monarch, Canada's oldest homebuilder, builds homes for first-time and move-up buyers in Toronto and Ottawa as well as high rise condominiums in Toronto.
For more information about Taylor Morrison, Darling Homes or Monarch, please visit http://www.taylormorrison.com, http://www.darlinghomes.com and http://www.monarchgroup.net.
ABOUT TOLL BROTHERS
Toll Brothers, an award-winning Fortune 1000 company founded in 1967, embraces an unwavering commitment to quality and customer service. Toll Brothers is currently building nationwide in 19 states and is a publicly owned company whose stock is listed on the New York Stock Exchange (NYSE: TOL). The Company was recently named Builder of the Year by BUILDER magazine, and was twice named Builder of the Year by Professional Builder magazine. The Company began business in 1967 and became a public company in 1986. Its common stock is listed on the New York Stock Exchange under the symbol "TOL." Toll Brothers serves move-up, empty-nester, active-adult, and second-home buyers and builds an array of luxury residential single-family detached, attached home, master planned resort-style golf, and urban low-, mid- and high-rise communities, principally on land it develops and improves.
Toll Brothers entered the Dallas, Texas market in 1994 and has subsequently expanded its operations into Houston, San Antonio and Austin. Since entering the Texas market, Toll Brothers' Texas Division has delivered approximately 3,800 homes totaling approximately $2 billion in revenues. Locally, the Company is the proud five-time winner of the Texas Builder of the Year Award, from the Texas Association of Builders 2007, 2008, 2011, 2012, and 2013. Currently Toll Brothers is offering homes in 15 communities in Dallas, 9 in Houston, 4 in San Antonio, and, beginning in 2014, will be offering homes in 2 communities in Austin. Visit http://www.TollBrothers.com.