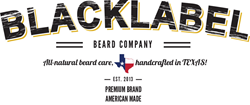 Dallas, TX (PRWEB) November 26, 2014
Black Label Beard Company has just announced that they are adding two new beard oils to their popular product lineup. The two new oils are their Barber Shop Beard Oil and the Eucalyptus Beard Oil. These two beard oils join many others in the product line that is very popular and well known for giving men with beards a way to get relief from the itching, scratching and skin irritation that often comes with facial hair. According to a company spokesperson, "These two new oils are welcome additions to our product lineup and we are confident that our customers will love them."
The Barber Shop Beard Oil evokes the smells of clean towels and soap in the barber shops of days gone by. The oil has a fresh, clean scent that is based on fruits and spices. The Eucalyptus Beard Oil combines an amazing aroma with documented benefits for the skin, including anti-inflammatory, antispasmodic, decongestant, deodorant, antiseptic, antibacterial, stimulating and other medicinal properties. As with all of the Black Label Beard oils, the Barber Shop Oil and the Eucalyptus Beard Oil are made with 100% natural and organic ingredients that come from the company's home state of Texas.
Both oils are available by visiting the Black Label Beard Company website and shoppers can purchase the oils directly on the site. Black Label Beard Company offers a variety of beard oils as well as balms, waxes, soaps, shaving accessories and bath & body products.
To learn more visit the Black Label Beard website at http://www.blacklabelbeard.com or call 214.607.3000. Black Label Beard also has a presence on Instagram and LinkedIn, and the company manages blogs on WordPress and BlogSpot, that offer information about the products and beard care.
ABOUT BLACK LABEL BEARD COMPANY
Black Label Beard Company was born out of necessity. The company's founder was tired of dealing with the itching and scratching that comes with having a beard all year round, so after some time on the Internet, he discovered a handy recipe and with the addition of some essential oils for the perfect aroma, the Black Label Beard oil was formed. Black Label Beard products are all natural and are known for their ability to sooth and protect the skin, while keep a beard moist and soft.
###