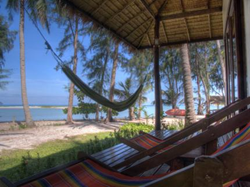 (PRWEB) November 25, 2014
Drishti Yoga Teacher Training will be returning to Thailand for the second year in a row to conduct a very unique Yoga Teacher Training in Thaliand 2015. The location is the ideal setting for a winter getaway in February for many of the students coming from the cold western part of the world. The International Yoga Teacher Training school will be hosted at the bungalow style Baan Manali resort for the duration of the course.
Baan Manali is located on the island of Koh Panghan and is an oasis away from the party side of the island. "We had visited Baan Manali last year for dinner and fell in love with the energy of the place." Explains Co-Founder Sarah Walsh. "It is tucked away at the end of the beach surrounded by trees which makes for a perfect sanctuary for our Yoga studies."
The partnership between Drishti Yoga Teacher Training and Baan Manali will result in a new Yoga deck being built on grounds. A pool will also be constructed this season providing a refreshing option to rest and relax between studies.
"The food was really delicious when we visited last year so we are looking forward to seeing what the chefs will prepare for us daily this year." Carri Uranga adds. The Yoga Teacher Training course runs from February 5th – March 1st and will include 2 meals a day with the evenings free for the students to explore other parts of the exotic Island.
While Baan Manali has been around for many years with an outstanding reputation in Thailand, it will be the first year they will host a Yoga Teacher Training Group. Baan Manali is very excited Drishti Yoga Teacher Training will be bringing their years of experience mentoring students to become Yoga Teachers to their site.
About Drishti Yoga Teacher Training
Discover the impact of intimate personal attention combined with focused training in exotic locations with Drishti Yoga Teacher Training. Combine passion for Yoga and love of travel to create a transformative experience on and off the mat.
Upcoming trainings will be held in Costa Rica from March 22- April 15, 2015 and Santorini, Greece July 8th – Aug 1, 2015. For detailed information on these trainings and to find how else Drishti is making a ripple effect in the Global Yoga Community visit us at http://www.drishtiyogateachertraining.com
http://www.facebook.com/DrishtiYogaTeacherTraining
http://www.twitter.com/DrishtiYogaTTC