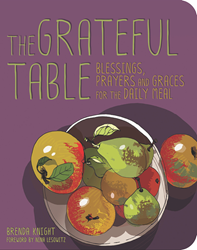 "The Grateful Table shows us the way to begin every meal with an open heart for every day of the year."—Beliefnet
(PRWEB) November 26, 2014
Gratitude practitioner and publisher Brenda Knight's The Grateful Table is featured on Examiner.com by Allen Klein, popular speaker, author, and the world's only Jollytologist.
"I'm fond of this book because it gives us something to be thankful for every day of the year, not just on Thanksgiving…and not only to begin a meal but also to begin a lifetime of gratitude," said Klein about The Grateful Table.
Some of the sayings Klein shared are:
"Both in good fiction and in life, you may not always get what you want, but you will probably get what you need. We should be grateful for these things." -Neil Gaiman
"Let gratitude be the pillow upon which you kneel to say your nightly prayer. And let faith be the bridge you build to overcome evil and welcome good." -Maya Angelou
"If the only prayer you say in your whole life is 'Thank you,' that would suffice." -Meister Eckhart
Saying grace is one of our loveliest traditions. The Grateful Table offers 365 beautiful blessings for every day of the year. From 18th-century prayers for Thanksgiving to devotionals from the world's wisdom traditions and sincere expressions of thankfulness by Alton Brown, David Foster Wallace, Jack Kerouac, Shirley MacLaine, Dave Eggers, Sheryl Crow, Neil Gaiman and Alice Walker, The Grateful Table shows us the way to begin every meal with an open heart. It is also available as an audiobook.
About Viva Editions
Viva Editions are books that inform, enlighten, and entertain. The very name, "Viva!", is celebratory. And while Viva Editions is a line of books that are as fun as they are informational, the intention behind Viva is very serious—these are books that are truly helpful and intended to enhance people's lives.