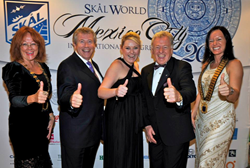 We are looking forward to a bright future for our club within Skål!
ATLANTA, GA (PRWEB) November 26, 2014
Out of 400 clubs worldwide, Skål International Atlanta placed second in Skål International's Club of the Year competition earlier this month and had more representatives present at the 2014 Skål International World Congress in Mexico City than any other. The global association of senior-level hospitality and tourism executives invited seven of its clubs to compete and judged them on four categories: increase of membership, growth of Young Skål (student and young professional members), scholarships for members to attend national and international Skål events, and special projects that facilitate the Skål motto, "doing business among friends."
At the conference, the Skål International Atlanta Club and its members received several other recognitions and honors:

SI Atlanta received the Certificate of 10 Percent Increase of Membership for the second year in a row.
SI Atlanta President Burcin Turkkan was one of six people Skål selected from its 18,000 global members to serve on Skål International's 2020 Team for special projects. The only U.S. member named to the special committee, Turkkan will serve as Deputy Chair focusing on Young Skål.
SI Atlanta and SI Izmir became "twin chapters," a ceremonial affiliation that serves to facilitate business, social and travel arrangements between members of the two chapters. Izmir is the second Turkish chapter SI has twinned with; it celebrated its one-year anniversary of twinning with SI Istanbul last month.
"I would like to thank all of our members who have participated in this Congress, represented our club and made new contacts in the Skål world," Turkkan said. "We are looking forward to a bright future for our club within Skål!"
To learn more about Skål International Atlanta, find upcoming meetings and apply for membership, visit skalatlanta.org.
###
ABOUT SKAL INTERNATIONAL ATLANTA
Skål International is a global network of tourism executives and hospitality professionals. Membership is by invite only, and is extended only to high-ranking executives considered leaders in their field. SI Atlanta was founded April 20, 1955 by Joe D. Olivier and Clark Dunn. Members represent local tourism marketing agencies, airlines, meeting planners, travel media, hotels, transportation companies, cruise lines, travel agents and other professionals working in hospitality and tourism.