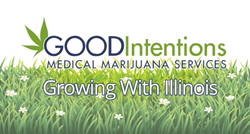 Chicago, IL (PRWEB) November 26, 2014
Gone are the days of leading our children to believe that marijuana is as useless and harmful as heroin or crystal meth. Nowhere will that be more apparent than at this year's McDonald's Thanksgiving Day Parade in Chicago. Good Intentions Medical Marijuana Services will be the first legal marijuana related business to join the ranks of well-known, established businesses in the parade's 80 year history. "It's time to give up on the argument that marijuana has no known medical value" explained Good Intentions founder and CEO, Tammy Jacobi. "Now is the time to educate our children that there are many substances people can use to treat their debilitating conditions and medical marijuana is one of them"
With an emphasis on education and advocacy, Good Intentions has become a trusted name in medical marijuana services in Illinois and in Michigan. Good Intentions services include physician coordination and referrals, fingerprint background checks, official state forms assistance and verification of state required documentation. Jacobi added "I am profoundly moved that our company continues to make a difference in patient's lives. We're also very proud of The State of Illinois for the hard work and dedication they've contributed in order to bring this program to life."
Good Intentions Thanksgiving Day Parade float will emphasize the company's history of "growing" with Illinois through the process of licensing medical marijuana patients. The float will feature a 12 foot banner with the theme "Growing With Illinois" and will be complete with a garden of flowers in bloom. According to Jacobi, "just as plants grow and flower, the company has blossomed into an organization that provides hope for the most seriously ill citizens of Illinois. And when it comes to our children, let us not forget the shrewdness of Thomas Jefferson -Honesty is the first chapter of the book of wisdom."