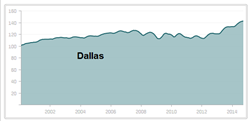 On a year-over-year basis, Miami and Las Vegas have led the way
Chicago, IL (PRWEB) November 26, 2014
Lenders like Peoples Home Equity were pleased to see the results of the latest Case-Shiller Home Price Index release on Tuesday, November 25th.
The Case-Shiller National Home Price Index rose 4.8% on a year-over-year basis for September 2014. Unfortunately, none of the major indices: national, 10-city, or 20-city rose on a month-over-month basis in September. However, many individual city indices showed notable gains for September. Miami experienced the highest return of 0.64%, followed by Charlotte at 0.58%, and Las Vegas at 0.42%. The worst month-over-month performers were: Washington D.C. at -0.43%, Atlanta at -0.25%, and San Francisco at -0.22%. It looks like the markets that outperformed during the housing crisis, such as San Francisco and Washington D.C. are taking a pause while buyers look for value purchases in Miami and Las Vegas where the real estate in those cities are flooded with foreclosures.
On a year-over-year basis, Miami and Las Vegas have led the way, respectively returning 10.31% and 9.15%, San Francisco follows in 3rd place at 7.95%. However, on a year-to-date basis, from January 1st to September 30th, the markets that outperformed during the housing crisis are continuing to outperform in 2014. San Francisco leads 2014's year-to-date returns at 7.57%, followed by Dallas at 7.17%, Seattle at 7.05%, and Denver at 7%.
Peoples Home Equity encourages prospective home buyers to consider purchasing a property now that housing recovery has strengthened. Consider using Peoples Home Equity as the lender. If unsure whether or not a home loan is an affordable choice, please note that frequently it's less expensive to pay the mortgage, association fee, taxes, and utilities than it is to pay rent! One can easily find out how much a monthly mortgage will cost by visiting PeoplesHomeEquity.com and click on "Monthly Payment Calculator" under the "Calculator" field.
Contact a Peoples Home Equity loan officer today at: 262-563-4026