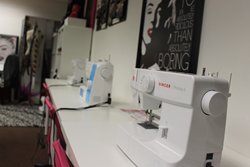 Pasadena,CA (PRWEB) December 17, 2014
The Koffa Design Group has launched an educational fundraiser on the site indiegogo.com to raise funding to open a design studio space for fashion and creative education for all. The Koffa Design Group currently offers sewing classes in its small studio space in Pasadena, CA but wants to help more people tap into their creative side by having a space they can go to any day of the week. This design space will feature a sewing lab where individuals can come and sew projects and ask questions from staff members. This space will also offer sewing classes and seminars for kids, teenagers, and adults. With the funding this space will also host annual fashion events for the community to enjoy. The funds raised will help support the opening of The Koffa Design Group Sewing Lab.
The fundraiser can be found on https://life.indiegogo.com/fundraisers/to-open-up-a-sewing-lab-and-design-center-for-all/x/9424942. If you would like to show your support while also being apart of a creative educational project please contact PR@TheKoffaDesignRgoup/408-475-6332/info(at)thekoffadg(dot)com for more information on how to make your donation.