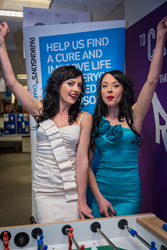 The Cheeky Girls said: ""We were both so pleased to be able to lend our support. We know from personal experience how difficult living with Parkinson's can be, and we want to do all we can to help spread awareness
(PRWEB UK) 26 November 2014
Parkinson's UK is a support and research charity leading the search for a cure for the disease.
The Cheeky Girls, who achieved success in the charts with four top ten hits between 2002 and 2004, are keen supporters of Parkinson's UK because their grandmother lived with Parkinson's for many years.
The inspiration for the marathon came from a client of The Marketing Practice who has Parkinson's. Tim Isaac was diagnosed in 2009 and wrote a powerful poem titled 'Tick-Tock' which has been used by Parkinson's UK and the associated South London Young Parkinson's Network for their 'Stop the PD Clock' campaign. Dame Judy Dench performs the poem alongside younger people with the condition at slypn.org.uk/stopthepdclock/.
Tim, who is the Global Marketing Director of the industry leading research firm TNS says: "It is difficult to precisely communicate the physical and emotional 1-2 punch that one experiences if you have Parkinson's and the collective effect on family, friends, carers is often ignored or sugar coated. I wrote "Tick-Tock" as a reflection of how I felt and it seemed to strike a chord with others who have donated their talent towards this campaign. Finding a cure in my lifetime is the lifeline that keeps me strong and events such as this make that more achievable."
The Cheeky Girls said: ""We were both so pleased to be able to lend our support to this fantastic event last night. We know from personal experience how difficult living with Parkinson's can be, and we want to do all we can to help spread awareness of a much misunderstood condition. That's why it's really important we all fight for a cure and support the fantastic work that Parkinson's UK does."
Clive McNamara, Chairman of The Marketing Practice added: "Parkinson's UK is such a worthwhile charity I'm sure nearly everybody knows somebody living with Parkinson's. It was all the motivation we needed to make it through the 24 hours knowing that we were raising valuable funds for the charity. We are also really grateful to the Cheeky Girls for agreeing to come and kick start proceedings."
As well as donations from staff and the public, clients of the Marketing Practice including Canon, TNS, HP and O2 sponsored the event and lucky winners bid for items such as a 9-day stay at the Wildfitness retreat in Zanzibar and hospitality tickets for the 2015 Capital One Cup Final through an online auction.
People are still being invited to donate at http://www.justgiving.com/TMPmarathon.
Media contact: Jo Love, Love Communication, 07887 775271, jo(at)lovecommunication(dot)co.uk
Notes to editors
About The Marketing Practice: The Marketing Practice helps organisations with complex B2B propositions to attract prospects, nurture opportunities, win deals and grow customers. Over the last 10 years, the agency has grown to over 90 people and runs programmes across Europe for clients including AXA Wealth, Telefónica O2, Canon, Oracle and BBC Worldwide. http://www.themarketingpractice.com
For more information, please contact Claire Lund at clund@themarketingpractice.com or on 01235 833233
About Parkinson's UK
Every hour, someone in the UK is told they have Parkinson's.
It affects 127,000 people in the UK - which is around one in 500 of the population.
Parkinson's is a degenerative neurological condition, for which there currently is no cure. The main symptoms of the condition are tremor, slowness of movement and rigidity.
Parkinson's UK is the UK's leading charity supporting those with the condition. Its mission is to find a cure and improve life for everyone affected by Parkinson's through cutting edge research, information, support and campaigning.
For advice, information and support, visit http://www.parkinsons.org.uk or call our free, confidential helpline on 0808 800 0303.