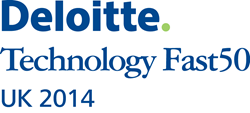 Cambridge, England (PRWEB) November 27, 2014
Cambrionix Ltd today announced that it ranked number 10 in the 2014 Deloitte Technology Fast 50, a ranking of the 50 fastest-growing technology companies in the UK. Rankings are based on percentage revenue growth over the last five years. Cambrionix Ltd grew 2989 percent during this period. In addition, Cambrionix Ltd ranked first in the region of Cambridgeshire and East and first in the sector of Electronics.
Kevin O'Hara, Managing Director Says:
"This award is recognition of the hard work put in by our team who are continually looking at ways to improve our products and our services. We have been fortunate in recruiting good people who have all played their part in bringing us to this point. Our growth has come about as a result of our commitment to quality and innovation and continued investment in research and development. We are also committed to excellent customer service and ensuring we can meet and surpass our customer expectations. This is the beginning of a journey for us and we have a lot more exciting new ideas and products which we will be bringing to market."
"Being one of the fastest growing technology companies in the UK is an impressive accomplishment. We commend Cambrionix for making the Deloitte Technology Fast 50 with a phenomenal 2989% growth rate over five years," said David Halstead, Deloitte Technology partner for the Cambridge Region.
David Halstead, Partner leading the Deloitte Technology Fast 50, said: "The Deloitte Technology Fast 50 gives great profile to technology companies and is internationally recognised as being one of the most important business awards in the sector"
"The 2014 Deloitte Fast 50 shows that tremendous growth rates are still possible, with software sectors showing particular strength, they have had the greatest amount of entries in the past five years.
"The Technology Fast 50 awards are an opportunity for businesses to gain recognition for their successes and achievements over the last five years.
"The 50 fastest growing UK technology companies generated over £963 million in total annual revenues in the year 2013/14, employing more than 8,500 people and recorded an average five-year growth rate of 1,695 per cent, according to the Deloitte UK Technology Fast 50.
"The awards are an opportunity for businesses to gain recognition for their successes and achievements. This year's ranking highlights the importance of being innovative and finding a niche product or service, to beat the recession."
About Cambrionix
Cambrionix designs and supplies market leading products for use in schools, hospitals, homes and a wide range of businesses that need to manage and control updates, synchronise data and charge USB-connected devices reliably and quickly. The unique patented Cambrionix technology is incorporated by system integrators into a variety of form factors including carts and charging pods which are sold around the world. Cambrionix was established in June 2007 and is based in Cambridge, UK.
Notes to editors
*Growth rates are all over the last five years.
The full list of this year's winners and winner breakdown by region and sector is available at http://www.fast50.co.uk
About Deloitte:
In this press release references to Deloitte are references to Deloitte LLP, which is among the country's leading professional services firms.
Deloitte LLP is the United Kingdom member firm of Deloitte Touche Tohmatsu Limited ("DTTL"), a UK private company limited by guarantee, whose member firms are legally separate and independent entities. Please see http://www.deloitte.co.uk/about for a detailed description of the legal structure of DTTL and its member firms.
The information contained in this press release is correct at the time of going to press.
For more information, please visit http://www.deloitte.co.uk.
Member of Deloitte Touche Tohmatsu Limited
Deloitte Technology, Media & Telecommunications (TMT) Group
The Deloitte TMT Group is composed of service professionals who have a wealth of experience serving TMT companies throughout the UK in areas including cable, communications providers, computers and peripherals, entertainment, media and publishing, networking, semiconductors, software, wireless, and related industries. These specialists understand the challenges that these companies face throughout all stages of their business growth cycle and are committed to helping them succeed. Deloitte is a leader in providing strategic, financial and operational assistance to its technology, media and telecommunications clients.
For more information, please visit http://www.deloitte.co.uk/tmt
Deloitte UK Technology Fast 50
The Deloitte Technology Fast 50 is one of the UK's foremost technology award programmes. Now going into its 17th successful year, it is a ranking of the country's 50 fastest-growing technology companies, based on revenue growth over the last five years. The UK Fast 50 awards are all about growth driven by leading intellectual property and are a celebration of innovation and entrepreneurship. The UK Fast 50 is part of an international programme run by Deloitte, qualifying entrants of the UK Fast 50 will be put forward to the Deloitte Technology Fast 500 EMEA (Europe, Middle East and Africa) programme. Previous winners have come from across the UK, are both large and small, and included some of the most dynamic players in all areas of technology, from Internet specialists to biotech, digital media technology to life sciences, computers to semiconductors and software to telecommunications.
For more information visit http://www.fast50.co.uk