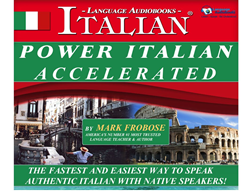 Champaign, IL (PRWEB) November 28, 2014
Chirstmas is nearly here, and many fear facing the bargain-hungry crowds in search of that perfect Christmas gift.
Don't despair. Help is on the way.
What help?
"Digital help and email delivery," answers Mark Frobose, bestselling author of Power Italian Accelerated.
"All that is needed is to go to Audible.com and order a language program wrapped up like a Christmas present," says Mark Frobose, creator of Power Spanish Accelerated.
"This newly released YouTube video shows everyone exactly how it's done," says Mark Frobose, the prolific author of more than 70 bestselling language programs, including the well-known Power French Accelerated.
Why would anyone prefer to receive a language program in their email as opposed to under the tree?
"People are constantly using their smartphones, and these emailed language course gifts come digitally gift-wrapped and can be instantly downloaded to the recipient's smartphone for immediate use and practice everywhere," explains Mark, who also created the popular Power French Accelerated.
How does one access the language gifts to be emailed?
"That's easy," exclaims Frobose, who created Power Mandarin Chinese.
Holiday shoppers can simply go online to Audible.com and type in Power Spanish, Power French, Power Italian, Power Portuguese, or Power Mandarin Chinese. The program may then be ordered as a gift, and people can easily schedule the delivery time as well.
Free sample lessons of Language Audiobooks' popular Power Spanish, Power French, Power Italian, Bite-Sized Mandarin, Conversational Latin-American Spanish, Clean French Slang and other innovative language programs are available now at LanguageAudiobooks.com and at Audible.com.