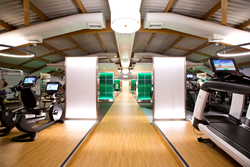 (PRWEB UK) 27 November 2014
David Lloyd Leisure has launched a cutting-edge gym concept featuring the latest design and technology, coupled with the UK's largest array of best-in-class equipment, to provide members with an unrivalled experience.
Europe's leading health, sports and leisure group has unveiled the state-of-the-art facility at David Lloyd Chigwell in Essex, and has begun rolling out an ambitious gym innovation programme to other clubs in its 91-strong network.
The new Chigwell gym, forming part of a £3.4m facilities upgrade project at the club*, has been designed to provide members with the best environment, equipment and experience to support them in achieving their health and fitness goals.
From the moment a member steps into the gym, they enter a unique, high-quality and inviting space designed to activate the senses and featuring designated exercise zones catering for all needs: Functional Training Zone; Sports Performance Zone; Community Zone; Strength Zone; Cardio Zone; and Stretch Zone.
The range of equipment in the gym is devised based on scientific evaluation of member demand for certain products and actual usage of equipment during peak and non-peak periods. Following global research, it comprises the most comprehensive array of best-in-class equipment provided by any health and fitness operator in the country**.
The collection includes the new BILT by Agassi & Reyes group and personal training-focused, mini-circuit range - marking former tennis World no.1 Andre Agassi's UK gym sector debut.
Also among David Lloyd Leisure's leading gym innovation partners is Life Fitness, which has supplied a full range of its latest equipment to provide members with the best tools possible to achieve their health and fitness goals.
At the flagship Chigwell facility, the cutting-edge gym design is complemented by integrated technology to support members' increasingly digital lifestyles. The gym is piloting tablets and iMacs for members to access exercise programmes, tailor-made by personal trainers, to help them keep on track with their fitness goals either in club, at home or on the go. Other features include touch-screens demonstrating instructional exercise videos aimed at maximising workout efficiency.
Scott Lloyd, David Lloyd Leisure's chief executive, said: "We are very excited about the launch of this truly state-of-the-art gym at Chigwell. The installation showcases significant advances in design and the most comprehensive range of market-leading equipment, supported by technology that recognises our members are leading increasingly connected lives. David Lloyd Leisure is always looking to invest in new, innovative and exciting facilities, products and programmes for our members, as their needs continue to evolve. We want to make going to the gym an enjoyable, motivating, inspirational and non-intimidating experience in every possible way. Our new gyms have been created to make members feel part of a community, to cater for everyone - whatever their preferred choice of workout, age or ability - and to provide an unrivalled range of best-in-class equipment to help them achieve their goals. This investment helps members get the most out of their membership and gives them the best possible experience every time they visit their club."
In addition to its gym innovation programme, which represents an investment to date of more than £6m, David Lloyd Leisure is ploughing £50 million into its estate to upgrade clubs with the aim of continuing to provide unrivalled facilities to support active and healthy lives.
The best-in-class gym equipment includes:
BILT by Agassi & Reyes
Marking its UK commercial gym sector launch through UK partner Concept Fitness International, BILT by Agassi & Reyes is a group and personal training-focused mini-circuit range, designed by former tennis World no.1 Andre Agassi.
It features the 2013 FIBO*** award-winning Change of Direction (COD) machine, which allows users, from beginners to professionals, to work out their lower body in a safe and innovative way using a unique combination of weight resistance, variable resistance and movement.
From tennis to football and rugby to golf, the equipment provides ideal strength and conditioning training for any sport.
Speaking of the launch, Andre Agassi said: "I am delighted that the hard work and passion that has gone into the many years of development at BILT by Agassi & Reyes has been recognised by what is the pioneer in the premium fitness sector in the UK. We look forward to developing our relationship further as David Lloyd Leisure continue their club improvements over the coming years."
eSpinner
The eSpinner is a fully featured spin bike for the gym floor, featuring a 'coaching' video system with over 1 million ride variations led by a Master Spinning instructor. Alternatively, users can ride to their own media or TV channels.
Max Rack
With its unique design providing the safety of a Smith machine with the exercise diversity of a Power Rack, the free weight Max Rack offers multiple bar rack safety catches for forward, rear and lower racking giving enhanced safety.
Octane Lateral
Add a new dimension and excitement to the cardio floor with the LateralX elliptical that delivers functional challenges, more muscle demands and greater calorific burn. LateralX users benefit from a 27 per cent increase in calorie burn and a 30 per cent increase in inner and outer thigh work over traditional standing ellipticals.
Octane Seated XR6000
Octane's seated elliptical delivers more benefits than other seated equipment, while offering numerous workouts and the ability to incorporate upper or lower-body strength training. Research shows a 343 per cent increase in glutes usage and 23 per cent more calorie burn compared to a recumbent bike.
Adaptive Motion Trainer with Open Stride
Open Stride allows users to adjust their stride height from 6.8 to 10 inches (17 to 25 cm). Combined with the ability to dynamically adapt stride length up to 36 inches (0 to 91 cm), the Open Stride AMT enables an infinite range of motion paths and the capability to duplicate treadmill, elliptical and bike workouts.
PowerMill
The PowerMill climber is new addition to the LifeFitness Cardio family. The smooth stepping action allows for both high-intensity and moderate-intensity workouts. The stepping action can run between 12 to 185 steps per minute, which is inviting for users of all fitness levels.
Power Plate
As global leader in whole body vibration, Power Plate applies the science behind the body's natural response to destabilisation. Using a consistent, safe and controlled level of vibration, Power Plate's advanced technology has been used to effectively address a variety of wellness and fitness needs, including increases in circulation, energy, vitality, muscular strength, and flexibility.
SYNRGY360
SYNRGY360 is about much more than just working out. It provides limitless opportunities to train smarter, better, and more effectively. SYNRGY360 is a full-service training nerve-centre that can be tailored to serve the broad scope of exercisers' goals and facilitate the latest fitness trends.
TreadClimber
Star Trac takes the best features of a treadmill, elliptical and stepper and combines them into a robust TreadClimber. Offers a low impact workout, especially good for people with knee or back problems. With an easy-to-use functionality and intuitive console, it burns twice as many calories as walking on a treadmill.
Trixter X-Dream V2
The most complete exercise bike ever, the Trixter X-Dream V2 accurately simulates outdoor biking with a new 23"dell touch screen. Offering more than 400 virtual reality challenges at four difficulty levels, plus classic bike, video rides, live multiplayer and ghost-racing modes.
WaterRower
The WaterRower is designed to replicate the dynamics of rowing in a boat. The smooth back-stroke, ergonomic rowing position and satisfying sound of water rushing centrifugally within the tank create an unrivalled simulation of on-water rowing. The seat, footboard and handle mimic the positioning of these elements in a real boat.
Wattbike
The Wattbike was developed in association with British Cycling and is the indoor bike of choice for elite athletes, including World and Olympic Champions. A unique ride feel, scientifically accurate feedback and repeatable, reliable data make the Wattbike the ultimate indoor bike.
Woodway Curve
The Woodway Curve is a unique, self-powered treadmill that allows the user to control their own speed and workout intensity. It is great for improving core strength and can be used alongside other pieces of functional equipment without the need to set-up specific programmes; literally, jump on and begin running.

The David Lloyd Chigwell upgrade includes cutting-edge high impact, mind & body and spin studios, a luxurious wet spa and spa garden, a purpose-built DL Kids area to keep children active and a DLicious cafebar supporting an integrated approach to fitness.
** Gym equipment varies by club
*** FIBO is the worldwide leading trade fair for fitness, wellness and health.
ENDS
Note to editors: For further information about this press release, contact the David Lloyd Leisure press office on 01707 289833/34 or email press@davidlloyd.co.uk .
About David Lloyd Leisure Group
The David Lloyd Leisure Group operates 81 clubs in the UK and a further 10 clubs across Europe, comprising David Lloyd Clubs , Harbour Clubs and Next Generation, plus the new high street concept, David Lloyd Studio, in Islington, Putney and Winchester. It has approximately 450,000 members and employs 6,000 people. This includes an expert health and fitness team of over 1,800, while it contracts the services of more than 400 tennis professionals. Across all clubs, David Lloyd Leisure has over 150 swimming pools (of which half are indoor) and offers over 10,000 exercise classes per week. Every week 20,000 children learn to swim at David Lloyd Leisure and 12,500 learn to play tennis. Its racquets facilities are unparalleled with 800 tennis courts as well as 180 badminton courts and 140 squash courts. Additional facilities include health and beauty spas, club lounges with free internet access, crèches, nurseries and specialist sports shops.