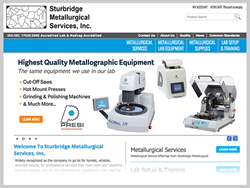 It really showcases the variety of services we offer at our lab
Sturbridge, MA (PRWEB) December 02, 2014
Sturbridge Metallurgical Services (SMS) launched their new website Monday November 17, 2014, a website devoted to providing prospective and existing customers with an overview of their metallurgical services, happenings within the company and a robust e-commerce store.
http://www.smslabs.com provides visitors with an intuitive and easy to navigate website experience. The site is broken down into four (4) main categories Metallurgical Services, Metallurgical Equipment, Metallurgical Supplies and Lab Setup & Training, thus making it easy to dive into the area the suits your needs.
The e-commerce experience has been enhanced to allow customers a way to create an account and view a history of their orders. With a few clicks customers can place a new order that matches any previous order. They can track the progress of their orders and communicate directly with the SMS team.
In addition to the services and supplies, Sturbridge Metallurgical has been the only authorized Presi dealer in the USA for years. The new website gives SMS a platform to showcase the Presi equipment so prospective customers understand the quality and features and can make an informed decision for capital equipment purchases.
"We're very excited about the new website launch," says Brendan Fullam, Business Development Manager at Sturbridge Metallurgical Services. "It really showcases the variety of services we offer at our lab and provides our customers with an easy way to stock up their own laboratory."
"It was time," said Courtney Grimes, President of Sturbridge Metallurgical "We had held off on a large marketing push since I started the company. This website is our starting point for an increase in our presence amongst the metallurgical community and prospective customers."
Sturbridge Metallurgical Services Inc, an ISO/IEC 17025:2005 Approved Laboratory and Nadcap Accredited Laboratory, is the go-to lab for honest, reliable, accurate metallurgical results and services that meet both your deadline and your budget, while also providing industry leading laboratory equipment and supplies for your own laboratory