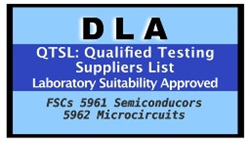 Clifton, NJ (PRWEB) November 30, 2014
Joseph Federico, VP and Director of NJ MET, will discuss his recent article, "Issues in Solvent Testing for Counterfeits," that was published in the October, 2014 issue of US Tech Magazine. Mr. Federico will present this outline at the electronic testing exhibition and Diminishing Manufacturing Sources and Material Shortages (DMSMS) conference at the Henry B. Gonzales Convention Center of the Grand Hyatt in San Antonio, Texas on December 1-4th 2014. NJ MET's booth is number 242.
"The article describes the proper procedures for solvent testing for remarked and resurfaced electronic components and the occurrence of false positive results when a solvent test is applied to the wrong type of electronic component," said Joseph Federico from NJ MET company headquarters in NJ. "I will be giving a short presentation addressing thorough testing with the appropriate procedures necessary to identify counterfeit components and keep them out of the supply chain."
Obsolescence and DMSMS are often used interchangeably. DMSMS is the lack of sources or materials; obsolescence is lack of availability due to statutory, process and design changes. An obsolete product refers to the product in question not being needed anymore, and DMSMS is driven by financial needs pushing a product out of production but not necessarily out of use.
According to the DMSMS conference website, "The best practices in DMSMS will continue to push awareness and mitigation early in the design and development cycle, applying improved forecasting analytics and parts management across the services, utilizing the digital thread throughout the life cycle, and providing visibility into potential DMSMS threats along the life cycle. Anti-counterfeiting technologies and standards will comprehensively track inventories and actively provide trusted components. This conference will provide a balanced spectrum of DMSMS practices to improve DoD affordability."
Please stop by NJ MET booth number 242 and learn about NJ MET's latest developments in component testing. Watch the NJ MET laboratory video.
For more information about the DMSMS 2014 conference, visit the DMSMS 2014 website. Please call Joseph Federico, VP and Director, NJ MET, Inc.'s Mission Imposter Risk Mitigation detection program at (973) 546-5393 or visit NJ MET Inc.'s website.