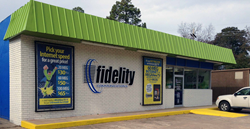 Atlanta, TX (PRWEB) November 27, 2014
Fidelity Communications' new business office in Atlanta, TX is now open on a part-time basis.
Located in a remodeled building at 300 N. Louise St. near the downtown area, the office will be open Tuesdays and Thursdays from 9 a.m. to 4 p.m. and be staffed with one customer service representative.
"Based on foot traffic and need, those hours could increase," said Kip McVey, general manager for Fidelity's Texas and Louisiana operations.
The new business office will provide a convenient place for customers to make payments, order new services and find out more about what Fidelity has to offer in the Atlanta market, McVey said.
The remodel features a front counter, bright colors, lobby chairs and signage inside and out. The walls are all painted bright green and blue, and a wall-mounted TV displays Fidelity's HD service.
Mesh banners on the exterior of the building will advertise quarterly specials. "The building is well-lit on the exterior, so the banners will be visible at night as well," McVey said.