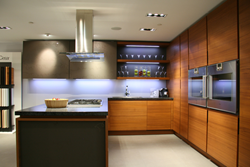 Dreams Come True, was held to raise funds for the Mary Ann Miller Scholarship fund
Englewood, NJ (PRWEB) December 02, 2014
The National Coalition of 100 Black Women, Inc. hosted a food-centric fundraising event on November 15, 2014 at the Modiani Kitchens showroom in Englewood, New Jersey. The event, which was called Making Dreams Come True, was held to raise funds for the Mary Ann Miller Scholarship fund. Hors d'oeuvres and wine were served and a food stylist was on hand to create a dessert from the latest book by Sunny Anderson, who served as the reception's honored guest. Anderson is the host of the Food Network show "The Kitchen" and is the author of the New York Times best seller "Sunny's Kitchen: Easy Food for Real Life." Attendees of the reception received an autographed copy of the book.
The Bergen/Passaic chapter of the National Coalition of 100 Black Women was founded by Mary Ann Miller in 1986 with thirty members. Since then, it has grown considerably and is a large contributor to the Bergen County community in the areas of education, healthcare, and community outreach.
Modiani Kitchens is a New Jersey based kitchen cabinet and kitchen design company that specializes in sophisticated kitchen design, European kitchen cabinets, and traditional kitchen cabinetry.