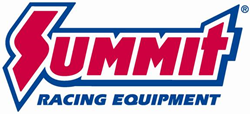 Tallmadge, OH (PRWEB) December 05, 2014
The completely self-contained Edelbrock Universal Sump Fuel Kits combine a fuel pump and regulator. They install under the hood of the vehicle, downstream from the mechanical fuel pump--fuel from the mechanical pump enters the Edelbrock unit, where it is stepped up to an EFI-friendly pressure level.
Edelbrock Universal Sump Fuel Kits were featured on Episode 23 of PowerNation's Detroit Muscle. Watch the full episode here.
Depending on the version you choose, the pump maintains 49 or 60 PSI of fuel line pressure necessary to run performance EFI setups.The kits include the pump/regulator module, mounting bracket, hose fittings, wiring harness, and all necessary hardware for installation.
SEE EDELBROCK'S UNIVERSAL SUMP FUEL KITS AT SUMMIT RACING
Summit Racing Equipment
http://www.SummitRacing.com
1-800-230-3030