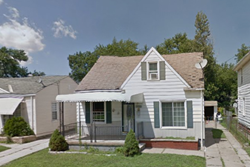 Chicago, IL (PRWEB) November 26, 2014
Ohio foreclosure activity increased by 51 percent from September to October and has the fourth highest foreclosure rate in the nation according to a recent RealtyTrac.com report. American Homeowner Preservation ("AHP") launched in Ohio in 2008 as a combatant of the foreclosure crisis and continued its mission by providing a mortgage modification for a struggling Cleveland homeowner this week. AHP is now located in Chicago and helps struggling homeowners nationwide, but the company has made its biggest impact in the state of Ohio.
Maria was 24-years-old when she and her husband were first time homebuyers back in 2002. The couple looked many places but eventually purchased a property in a quiet Cleveland community. They felt they received a good price on their home and took out a fixed-rate mortgage and found their monthly payments to be manageable for seven years. Then in 2009, like so many others across the nation, the recession flipped Maria's world upside down.
"In 2009 we filed bankruptcy, that's when everything started," said Maria. "Jobs, illness—my mother got sick then my husband got laid off, and a few months later I got laid off also. Everything was just going down the drain."
Maria and her husband tried to work with a previous lender while struggling to make payments, but the couple felt that filing bankruptcy would ensure they would not lose their home. Once out of bankruptcy, Maria found that her loan had been sold to a new lender. Maria's loan was then sold again, this time to AHP.
In contacting Maria to notify her of transfer of mortgage, AHP presented her with several options to help catch her up on her mortgage. In working with AHP, Maria was able to settle her delinquent payments and her monthly payments dropped from $565.00 to $400.
Maria was hesitant of AHP's offers initially, but after calling the company and voicing her concerns, she said AHP was very easy to work with. She also believes AHP can help others who share similar circumstances and are trying to save their homes.
"It's going to be very positive for us because we're going to be able to stay in the house," said Maria. "We don't want to live in the streets. We have memories here, we have put money into the house throughout the years. We didn't want to start over, we just wanted to continue and stay here. We like the neighborhood too, it's very quiet."
American Homeowner Preservation is a socially responsible investment fund manager which empowers accredited investors to purchase equity in pools of distressed mortgages and earn returns of 9-12%. For further information or inquiries please visit https://ahpinvest.com or call 800-555-1055.