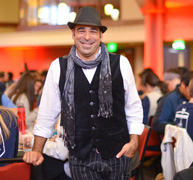 Living in wonder is about constantly challenging yourself to get up excited and go to bed fulfilled.
The Open Road, U.S.A. (PRWEB) November 27, 2014
Eric once challenged former Texas Governor Ann Richards to a game of checkers... And lost. Weird Al Yankovic has joined him at his campfire. President Jimmy Carter traded neckties one time because it seemed like a good idea. Eric is known as the only best-selling author/award-winning filmmaker to ever be kicked out of Steven Spielberg's office. The Fonz is his personal mentor. He has been in charge of the Olympic Torch, shared a stage with the likes of Jay Leno and Walter Cronkite, been featured in magazines including Spin, Fast Company and National Geographic, and spent more than a year living in a treehouse in Maui. He owns more hats than you do.
Eric Saperston might be the real-life "Most Interesting Man in the World," and every single one of the above statements is 100% true.
Today, Saperston is officially launching Live in Wonder, a global art project, best selling book and apparel line he personally designed to encourage and inspire people to embrace the wonder in their lives.
"In a world thirsting for genuine connection," Saperston says, "Live In Wonder cuts through the clutter with refreshing wisdom, humor and inspiration to uplift everyone we meet. I want to encourage everyone to live their live as an adventure."
Of course, as someone who traveled coast-to-coast twice in a Volkswagen bus, met privately with the director of the FBI, and been a national wrestling champion, Saperston knows more than most of us about making the most of everyday life.
"We should all live our lives in a state of awe and gratitude and and it's easy to forget that sometimes," according to Saperston, who has been to Burning Man six times, is an accomplished surfer, and never met a stranger he didn't embrace.
Currently, Saperston is traveling the country in a tour bus, shooting footage for his website, holding impromptu fireside chats and sing-alongs with interesting people, and telling everyone he meets to "Live in Wonder."
Live In Wonder apparel and gifts are available for sale now on their website as is Saperston's bestselling book of the same name and a wide variety of videos, musings and inspiration. The clothing line is currently placed in over 70 retail stores nationwide and more locations coming soon to your neck of the woods.
For more information about products and media, to book a speaking engagement, or bring Live In Wonder to your community gathering and events please visit: http://www.liveinwonder.com