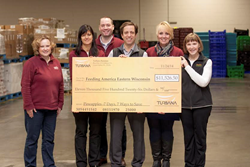 Coral Gables, Florida (PRWEB) November 28, 2014
On Monday, November 24, 2014, just in time for Thanksgiving, Turbana and Sendik's will present Feeding America Eastern Wisconsin with a check for over $11,500. Turbana partnered with Sendik's Food Market to donate a portion of proceeds to Feeding America Eastern Wisconsin. Once again, Turbana participated in Sendik's promotion, "7 Days, 7 Ways to Save" with Turbana bananas and Fyffes pineapples. Every Wednesday throughout fall, Fyffes pineapples were two for $4 and Turbana bananas were 29 cents per pound. Turbana and Sendik's donated $1 for every two Fyffes pineapples that were purchased during the promotion to Feeding America Eastern Wisconsin. The food bank uses its warehouses to distribute more than 22 million pounds of food a year to more than 800 pantries, meal programs and other non-profits. They are able to serve over 377,000 people in eastern Wisconsin.
"It is a part of Turbana's fundamental values to support its communities. That is why we wanted to include community involvement as a part of our participation in Sendik's '7 Days, 7 Ways to Save' promotion this year. We are happy to have found such a fantastic partner in Sendik's," says Marion Tabard, director of marketing at Turbana. "We look forward to strengthening our partnership with Sendik's next year through other initiatives that benefit the communities in the Greater Milwaukee area."
Every season, Sendik's partners with a different charity. Feeding America Eastern Wisconsin was its Fall partner. From August until the end of October, Sendik's partnered with different entities to raise funds. With the help of Turbana and the other partners Sendik's raised over $46,000 and 43,000 pounds of food to donate to Feeding America Eastern Wisconsin. The food and checks will be presented on Monday.
"Part of our mission at Sendik's is to support the communities we serve," says Patrick Balistreri, family co-owner of Sendik's Food Markets. "This is a great way to partner with our friends at Turbana and give support to Feeding America Eastern Wisconsin as they feed the hungry in our community. With the generosity of our guests, we're happy to be able to increase the annual donation this November."
"This effort with Turbana not only provided a healthy choice for Sendik's customers, but the proceeds are making for a more hopeful holiday for families struggling with hunger in eastern Wisconsin," said Bonnie Bellehumeur, president of Feeding America Eastern Wisconsin. "We're proud of the partnership with Turbana and Sendik's because it's an investment in the local community and it has a direct impact on those in need."
This promotion encouraged the community to make a healthy choice for themselves that in turn, created a healthy meal for someone less fortunate. Community involvement is at Turbana's core. As the first produce company to start a social movement, "Growing Smiles, Sharing Goodness," Turbana seeks to encourage and empower people to eat smart, be active and get involved in their community. By purchasing Turbana bananas and pineapples on Wednesdays during the campaign, Sendik's shoppers helped to further spread the "Growing Smiles, Sharing Goodness" movement which in turn helped communities across the country.
About Turbana
Established in 1970, Turbana Corporation is a leading importer of bananas in North America, including, plantains, pineapples, and ethnic tropicals. Turbana is proud to have been the first organization to bring Fair Trade Certified bananas to North America. A pioneer in sustainability and social consciousness, Turbana has developed the farming communities in the banana and plantain-growing regions over the past 44 years through its social foundation, Fundauniban. Turbana gives a portion of every purchase to Fundauniban, contributing to the $250 Million the foundation has invested in social and economic projects for education, housing, infrastructure, and environmental protection since 1987. Additionally, Turbana invests in its communities across the US, helping them build sustainable and healthy practices. Turbana is owned by Uniban, the world's largest grower-owned banana company and the world's largest producer of Fair Trade Certified bananas and plantains, and Fyffes, one of the largest produce importers and distributors in Europe. For additional information, please visit, http://www.turbana.com.
About Sendik's
Since 1926, the Balistreri family has been serving the greater Milwaukee community by combining quality food products with exceptional customer service. Their goal is to provide the best grocery shopping experience, period. Sendik's operates 12 stores throughout Southeastern Wisconsin, including Elm Grove, Franklin, Germantown, Grafton, Greenfield, Hartland, Mequon, New Berlin, Wauwatosa, West Bend and Whitefish Bay, and a Sendik's Fresh2GO store in Bayside. Learn more at sendiksmarket.com.