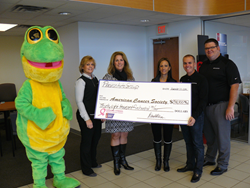 Preston, MD (PRWEB) November 26, 2014
In October 2014, Preston Automotive Group (PAG) took a stand against Breast Cancer. Breast Cancer is the most common cancer among women worldwide. It is also the second leading cause of death for women. During last month each dealership and auto body shop became United for a Cure.
To support Breast Cancer Awareness Month, the campaign United for a Cure meant that each dealership would donate $50 per car sold to the American Cancer Society and each body shop would donate 2% total sales for the month. Preston Automotive Group has been a huge supporter of Breast Cancer Awareness as it has affected many of their own employees and families. The Automotive Group was able to raise a total of $38,500 to the American Cancer Society towards the fight against Breast Cancer.
In addition to the making a donation to the American Cancer society, Preston Automotive Group employees wore "Pink" all month long to show support and for the first time ever, Preston created a pink frog. Customers traditionally receive a green Preston frog with every vehicle purchase. During October 2014, pink frogs were given to help show support in the fight against Breast Cancer.
Preston Automotive Group also created its first ever "Pink" fleet that consisted of a 2015 Ford Transit, two 2014 Ford Transit Connects, and a 2013 Ford Transit Connect. These vehicles were wrapped in pink to also aide in Breast Cancer Awareness. A 2014 Ford F-150 was also wrapped as this year's Drive to Inspire vehicle. The Drive to Inspire campaign was with Comcast Spotlight and Saving Second Base and they raised $3,500 that was also donated to the American Cancer Society.
Preston Automotive Group consists of car dealerships and auto body shops in both Delaware and Maryland. Delaware stores include Boulevard Ford Lincoln in Georgetown, Boulevard Ford in Lewes, and the newly redesigned Millsboro Automart. Maryland stores in Preston Ford Lincoln, Preston Hyundai, Preston Mazda, Preston Nissan, Denton Ford, Pittsville Ford, Preston Auto Body, Cambridge Auto Body, and Snow Hill Auto Body.