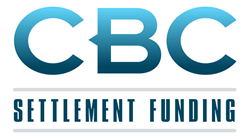 "We are thrilled by the show of support from our investors. It is an exciting time as we see an increase in the level of interest in our receivables."
Conshohocken, PA (PRWEB) November 26, 2014
Structured settlement finance company, CBC Settlement Funding, LLC ("CBC"), announced the completion of its fourth private placement backed by structured settlement and fixed annuity payments. CBC issued through its subsidiary BBRIV, LLC $21,814,000 of fixed rate asset backed notes with a yield of 5.39%.
 
William Skyrm, CBC Settlement Funding, LLC CEO and Co-founder, commented, "We are thrilled by the show of support from our investors. It is an exciting time as we see an increase in the level of interest in our receivables." Mr. Skyrm concluded, "We are extremely pleased with the execution of this transaction resulting from increased institutional demand due to the attractive yields relative to the risk profile of the asset class."
 
ABOUT STRUCTURED SETTLEMENTS
Structured settlements are commonly used in the settlement of personal injury lawsuits to spread payouts over 10, 20 or 30 years.  The secondary market for structured settlement annuity transfers is a highly regulated market place offering clients liquidity options for otherwise inflexible assets.  In 2002, Congress passed IRC 5891 affirming the tax benefits of structured settlements but requiring compliance with all applicable state or federal laws.  Today, 48 states have enacted structured settlement protection acts requiring court review and approval of each structured settlement transfer.
 
ABOUT CBC SETTLEMENT FUNDING, LLC.
CBC Settlement Funding, LLC is a Conshohocken, PA based purchaser of illiquid assets such as periodic structured settlement, annuity and other deferred payments. CBC is a consolidated subsidiary of Englewood Cliffs, New Jersey based Asta Funding, Inc. (Nasdaq:ASFI) (Asta).  CBC has purchased over $100 million in future payments from consumers providing them with liquidity from their annuity backed assets.  For more information, visit their website at http://www.cbcsettlementfunding.com