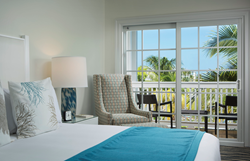 XX Marks the Spot at the Newest Key West resort.
Key West, FL (PRWEB) November 26, 2014
As the first new hotel in Key West in 20 years, The Marker Waterfront Resort celebrates its grand opening with a Cyber Monday promotion, XX Marks the Spot. To mark this 20 year milestone, The Marker Waterfront Resort is offering 20 rooms for $20.00 beginning at 9am EST on Monday, December 1st. For 20 consecutive hours, the resort will also offer guestrooms to become available for $200. This special promotion is valid for travel between December 2014 and December 2015 and blackout dates apply.
The property opens on December 12, 2014 and is celebrating this milestone with a 20 day celebration through January 1, 2015. In partnership with COAST, a local collective of "Craftsman by the Sea," the celebration will feature a variety of Key West experiences and activities on-property for guests to enjoy. Guests can take advantage of:

Chair massages from Key West Yoga Sanctuary
Rope working with crew members from the Hindu Schooner
Tastings with the Key West Legal Rum Distillery and Bonefish Brewery beer tastings
Conch shell blowing contests
Pop-up local art exhibits
And more
Offering a refined and relaxed atmosphere, The Marker Waterfront resort offers unmatched access to dining, nightlife, arts and entertainment. Guests can enjoy a relaxing oceanfront setting on two beautifully landscaped acres in the historic seaport. Independently operated, the 96-room luxury hotel is designed to offer a feeling of resort-like escapism in the center of Old Town and a variety of modern amenities. The resort also features three swimming pools and poolside cocktail service as well as on-site parking and breathtaking waterfront views.
Guests interested in this offer should book via the call center at 844-229-8312 or online. Please note that $20.00 rooms can only be booked via the call center and blackout dates apply.
About The Marker Waterfront Resort
The Marker Waterfront Resort arrives in Key West this December as a premier, independent, 96-room luxury hotel. This tropical oasis is centrally located on the edge of the Key West Historic Seaport, amid the best dining, attractions and sightseeing the destination has to offer. The resort pays reverence to the region's rich history while embracing a modern and timeless design that illustrates the essence of barefoot, tropical luxury. In addition to The Marker's 96 guest rooms, the property boasts; an eclectic dining concept (Cero Bodega), lush tropical landscaping, multiple swimming pools and poolside cocktail service as well as on-site parking and breathtaking waterfront views. Named in honor of the mile markers that lead to the southernmost point of the United States, The Marker is poised to be a newfound symbol of hospitality and a beacon of luxury in the heart of Key West's historic Old Town.