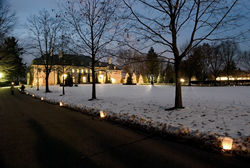 INDIANAPOLIS (PRWEB) November 28, 2014
The Indianapolis Museum of Art is the place to be this holiday season with classic family traditions and festive new programming to round out any winter itinerary.
Make your list (and check it twice!) before embarking on an all-day adventure throughout the IMA's 152-acre winter wonderland. Begin your visit with tour of the holiday decorations at Lilly House, recently named by USA Today as one of Indianapolis' top holiday attractions. Next, explore the world-renowned galleries, featuring more than 54,000 artworks spanning 5,000 years. Complete your day with gift shopping in the Museum Store and a cup of decadent hot chocolate in the Sutphin Fountain Room, where you can enjoy the stunning winter landscape through the floor-to-ceiling windows.
The IMA's seasonal lineup offers a variety of holiday experiences for both the young and young at heart, including:
Christmas at Lilly House
Through Jan. 4, 2015
Free
Step back in time as Lilly House is transported back in time with holiday décor from the 1930s and '40s with Christmas at Lilly House, just voted on of Indianapolis' top holiday attractions by USA Today. Explore the historic mansion, adorned with lavish Christmas décor from the era, including both traditional favorites and unusual period pieces. Don't miss special evening hours and live music during Holiday Hullabaloo on Dec. 4 and Winter Solstice on Dec. 18.
Silent Night
Nov. 29, 2014, 5-9 p.m.
Free
Skip the crowded shopping malls and experience the joy of silence during one of the busiest weekends of the holiday season. Relax in meditation spaces, unwind with a massage, take a slow-looking tour around the galleries, listen to a personal DJ, watch a silent film and park your cell phone with the phone valet to avoid distraction from this reprieve in your busy holiday schedule.
Holiday Hullabaloo
Dec. 4, 5-9 p.m.
Free
Shop for cozy scarves, one-of-a-kind jewelry, elegant home wares and hand-blown glass ornaments during Holiday Hullabaloo, featuring discounts at the Museum Store, Madeline F. Elder Greenhouse Shop and Lilly House Christmas Shop. Enjoy holiday music and refreshments, evening hours in Lilly House and complimentary gift wrapping during this festive shopping experience—not to be missed!
Monster Drawing Rally
Dec. 11, 6-9 p.m.
Free
Need a gift for the budding art collector in your life, but don't want to break the bank? At the IMA's first-ever Monster Drawing Rally, you can watch local artists in action and purchase original artworks for a flat fee of $35. Artists will participate in one-hour rounds at 6 p.m., 7 p.m. and 8 p.m. and produce as many drawings as possible in their allotted time. All works will be available for purchase as soon as they "hit the wall."
Winter Solstice
Dec. 18, 5-8:30 p.m.
Free
Bundle up for the annual Winter Solstice celebration, with fun for the entire family! Sing along with Dickens carolers, create winter art, meet arctic creatures and watch as blocks of ice are expertly transformed into sculpture. Warm up with sweet and savory treats by the fire, or visit Lilly House to experience Christmas traditions of the past and live music. Before you go, shop for seasonal plants and holiday décor in the Madeline F. Elder Greenhouse Shop and Museum Store. Free parking and shuttles are provided for this special event.
New Year's Eve at the IMA
December 31, 9 p.m. (VIP event begins at 8 p.m.)
$125 for IMA members, $150 for public, $200 for VIP tickets
Ring in the New Year with an evening of glitz, glamour and celebration at the third annual New Year's Eve at the IMA presented by the Penrod Society. Sip on trendy libations from local mixologists, explore more than 5,000 years of art history in the Museum galleries, cozy up by the fire in the outdoor lounge and dance the night away to music by local DJs and The Impalas. At midnight, gather in Pulliam Family Great Hall for a countdown to midnight and big reveal. Tickets can be purchased by calling 317-923-1331 ext. 494 or online at http://www.imamuseum.org/NYE.
Need more gift ideas?
Help friends and family enjoy the IMA year-round, even after the snow melts! An IMA gift membership gives your loved ones unlimited free admission to featured exhibitions, free parking, discounts on IMA programming and Museum purchases, exclusive invitations to VIP parties and events, and more! Mention the code IMAHOLIDAY through Jan. 1 and receive a one-year gift membership for 10% off. Gift memberships must be purchased in person at the Welcome Desk or over the phone at 317-920-2651. Orders should be received by Dec. 14 to ensure materials reach the recipient in time for the holidays. Learn more at http://www.imamuseum.org/give-join/membership.
About the Indianapolis Museum of Art
Founded in 1883, the Indianapolis Museum of Art serves the creative interests of its communities by fostering exploration of arts, design and the natural environment. Encompassing 152 acres of gardens and grounds, the IMA is among the 10 oldest and 10 largest encyclopedic art museums in the United States and features significant collections of African, American, Asian, European, contemporary art and design arts that spans 5,000 years of history. Additionally, art, design and nature are featured at The Virginia B. Fairbanks Art & Nature Park: 100 Acres, Oldfields–Lilly House & Gardens, a historic Country Place Era estate and National Historic Landmark on the IMA grounds, and the Miller House and Garden in Columbus, Indiana, one of the country's most highly regarded examples of mid-century Modernist residences. For more information visit http://www.imamuseum.org.