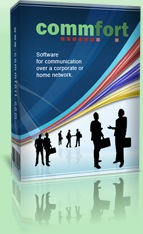 Toronto, Ontario, Canada (PRWEB) November 28, 2014
CommFort Software Ltd. the leading provider of innovative and versatile solutions for secure network communications announced today that it stepped to an entirely new level of efficiency and security in corporate information exchange.
CommFort is a client-server software especially designed for efficient communication over home or corporate networks, combining such information exchange as audio and video conferencing, text messaging, as well as fast file transfers. The CommFort software is capable of working on both local area networks, as well as on the Internet, while maintaining support for terminal clients. All the traffic is encrypted thanks to a sophisticated AES algorithm, which ensures the highest level of security that prevents possible data leakage. In an effort to minimize network load, the software leverages an incorporated advanced network buffering mechanism to ensure the maximum network efficiency with bandwidths ranging from 32 Kbit/s to 1000 Mbit/s during file and image transfers. Moreover, the images transferred via messages, private or public channels are automatically compressed to facilitate speed and network efficiency.
Unlike similar Internet services, the internal corporate data never leaves the company's local area network, which ensures the security and full control over the information that is being exchanged among employees. The users of CommFort software can take advantage of a full spectrum of communication tools; including channel communication, text messaging, image transfers, notification boards, file transfers, video and audio calls as well as video conferencing. Thus meeting the highest corporate demands of any size whilst streamlining the workflow and collaboration between multiple departments in medium and large enterprises.
Moreover, CommFort is capable to withstand very high traffic loads, supporting up to 10 000 simultaneously connected users. In an effort to further save network resources, the data is transferred directly between users bypassing the server during audio and video calls, ensuring the highest audio and video quality with minimum time delays.
Despite the sophisticated capabilities, CommFort Software offers a very user-friendly interface, that facilitates the end-user experience without compromising efficiency and security of data.
CommFort Software is distributed via PayPro Global eCommerce platform to sell software, SaaS and cloud products. It offers a secure and reliable infrastructure to accept worldwide payments and offers instant shopper support via phone and email 24 hours a day and 7 days a week. PayPro Global Customer Care can be reached at the following phone numbers:
United States and Canada: +1.866.933.4313
International: +1.646.873.6857
The orders are processed in a highly secure environment, using SSL (secure Socket Layer) protocol with 128-bit encryption keys. Encryption is certified by VeriSign. You can be confident that your details will not be shared, traded, or sold to any party - your privacy is assured.
About CommFort Software
Since 2004 CommFort Software hosts and develops an innovative solution designed for convenient and efficient communication over home or corporate networks. The company's mission is to streamline the inside corporate communication in form of text, audio and video among multiple users simultaneously, while maximizing network efficiency and ensuring highest standards of data security.
CommFort is headquartered in Novosibirsk, Russia.
Website: http://www.commfort.com
About PayPro Global
Founded in 2006, PayPro Global Inc. develops and hosts a flexible eCommerce platform to sell software, SaaS and cloud services. PayPro Global's mission is to deliver innovative solutions that help company's partners optimize conversion, increase shopping cart value and improve sales. The platform supports global payments, regional currencies, local payment methods and multilingual checkout. The company also offers software enterprises state-of-the-art licensing, activation and anti-piracy protection for their applications.
PayPro Global Inc is headquartered in Toronto, Canada, with development centers in Ramat Gan, Israel and regional offices in New York, USA, and London, UK.
Web site: http://payproglobal.com
Blog: http://blog.payproglobal.com
Twitter: @paypro_global