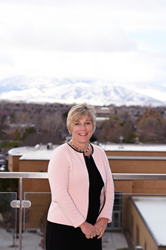 Taylorsville, Utah (PRWEB) December 01, 2014
Salt Lake Community College will hold its inauguration for Dr. Deneece G. Huftalin as the school's eighth president on January 9, 2015.
The day will begin at 8:30 a.m. with a public breakfast and reception with Dr. Huftalin at SLCC's Science and Industry Building atrium on the Taylorsville Redwood Campus. The official installation ceremony will take place at 10 a.m. in the Lifetime Activities Center next door on the same campus.
Dr. Huftalin has served SLCC students, faculty, and staff for more than two decades and previously served on the Executive Cabinet as Vice President of Student Services. She has worked collaboratively with faculty and staff to strengthen high-impact practices, learning outcomes, and inclusivity initiatives and led collegewide strategic priority and assessment efforts. Dr. Huftalin also served as the Dean of Students and the Director of Academic and Career Advising. Prior to joining SLCC, Dr. Huftalin held positions at William Rainey Harper College, Northwestern University, the University of Utah, Stanford University and the Institute for Shipboard Education.
Dr. Huftalin teaches in the Education, Leadership, and Policy program at the University of Utah and serves on the Board of Governors of the Salt Lake Chamber, the Executive Committee and Board of Trustees of EDCUtah, and the Board of Directors for YWCA Utah. She also serves on the Board of Directors of Utah Campus Compact, the Promise Partnership Regional Council of United Way of Salt Lake, and is the current presidential sponsor for the Utah Women in Higher Education Network (UWHEN). Dr. Huftalin earned a bachelor's degree from the University of Utah, a master's degree from UCLA, and a doctorate in Education, Leadership, and Policy from the University of Utah.
Salt Lake Community College is an accredited, student-focused, urban college meeting the diverse needs of the Salt Lake community. Home to more than 60,000 students each year, the College is Utah's leading provider of workforce development programs. SLCC is also the largest supplier of transfer students to Utah's four-year institutions and a perennial Top 10 college nationally for total associate degrees awarded. The College is the sole provider of applied technology courses in the Salt Lake area, with multiple locations, an eCampus, and nearly 1,000 continuing education sites located throughout the Salt Lake Valley. Personal attention from an excellent faculty is paramount at the College, which maintains an average class size of 20.