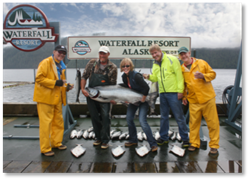 Ketchikan, Alaska (PRWEB) November 26, 2014
The Waterfall Group, leaders in adventure hospitality management, including Waterfall Resort and Steamboat Bay Fishing Club, announces its 2014 charitable efforts in honor of Non-Profit Awareness Month (November). Through its support of the Waterfall Foundation, The Waterfall Group has helped raise more than $5 Million dollars to date for the Breast Cancer Detection Center of Alaska by hosting high-end donors each season at Waterfall Resort for the Foundation's annual fundraising event. A portion of proceeds from each stay go toward the Foundation, which makes mammograms and breast cancer treatment available for women in both accessible and remote parts of Alaska.
Additionally, the company has selected the Prince of Wales Hatchery Association as its non-profit organization of choice to receive proceeds from Waterfall Resort's 11th Annual King Salmon Jackpot Challenge, contributing more than $15,500 following the 2014 summer season. The three-day fishing contest invites resort guests to weigh-in their wild Alaskan King Salmon to see who won catch of the day. Jackpot Challenge prizes include merchandise, free trips back to the resort and cash payouts. The Prince of Wales Hatchery is a private non-profit organization with the mission of enhancing the production of King Salmon (Chinook) and Silver Salmon (Coho) on the West Coast of Prince of Wales Island, Alaska.
"Whether it be aiding the fight against breast cancer or the repopulation of Chinook and Coho in our waters, we are dedicated to supporting our neighbors and natural resources, and proud of the contributions we make each year," said Geoff Stevens, Director of Marketing at The Waterfall Group.
As part of its charitable efforts, The Waterfall Group also makes in kind no-risk consignment donations of two-for-one fishing packages to selected non-profit organizations year-round. This is an exciting opportunity for charities to raise funds by auctioning two trips to Waterfall Resort for the cost of one, keeping the difference from the highest bid to support their own programs. Through this initiative, The Waterfall Group has helped non-profits raise more than $100,000 in 2014 alone. Partners for this program include Outdoor Sportsmen's Coalition of California, United Way of Santa Barbara County, Safari Club International New England Chapter, and more.
For more information about Waterfall Resort, call 800.544.5125 or visit http://www.WaterfallResort.com.
About The Waterfall Group
The Waterfall Group is a leader in adventure hospitality management. Founded in 1982, destinations of The Waterfall Group are known for their unique accommodations, friendly customer service, expert marine crew and close proximity to the best sport fishing in Alaska. Welcoming more than 50,000 guests at its properties, The Waterfall Group boasts an impressive guest return rate spanning multiple generations. The Waterfall Group manages historic Waterfall Resort and its exclusive luxury property, Steamboat Bay Fishing Club, the closest lodge to the best fishing in Southeast Alaska.