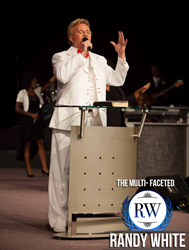 "Always thought of the bumblebee, Scientifically his body weight is bigger than his wingspan, And theoretically he is not able to fly. But no one told the bumblebee." Randy White
Tampa, Florida (PRWEB) November 26, 2014
Randy White, dubbed "The Donald Trump of the Christian Arena" and "Bishop to the Stars" is no stranger to adversity. The co-founder of what once was the fastest growing church in America, Without Walls International Church, endured and overcame more than forty life crises, from his divorce from ex-wife and co-founder of the church, Paula White, having a 3 year long senate inquiry on the church's finances involving him and 5 other mega ministries from which he was cleared, to the death of his daughter shortly following.
"Knowing that I had been through tougher times brought me through the toughest times. Always thought of the bumblebee, Scientifically his body weight is bigger than his wingspan, And theoretically he is not able to fly. But no one told the bumblebee." says Randy White.
White is taking his ability and wisdom in overcoming tragedy and implementing it to help others. With his all new brand and website http://TheRandyWhite.com launching Thanksgiving Day, Randy will continue to make a positive impact through speaking engagements, activisism, books, his position as Bishop of WWIC and now even offering 1-on-1 personal life coaching.
Randy White has spoken in front of crowds of 20,000+ people. He's available for booking at seminars, conferences and events on finances, success, church or organizational growth, establishing outreach programs for disadvantaged, overcoming adversities and more.
As a philanthropist Randy has contributed multi-millions to charities. He is an activist via the organization he founded in memory of his daughter, Kristen Renee Foundation, and their project, Fighting for Frederick, which has a major motion picture in the works.
White has written several books including "Only God Knows Why" and "The Keys to Transforming Lives From Simple to Sensational", which have gained reviews from the likes of Kid Rock, T.D. Jakes, John C. Maxwell and more.
His church, Without Walls International, along with 2 other organizations provided Thanksgiving dinner to a combined over 8,000 people in the Tampa Bay area this past Saturday. WWIC has recently become debt/mortgage free and now holds service Sunday mornings 9am and 11am at their new location at 3702 W Kennedy Blvd, Tampa, FL 33609.
Recently, Randy White gained his International life coach certification from Katapult Enterprises so that he may impart his knowledge on a more personal basis. He has been a personal friend and called upon by everyone from former President Bill Clinton to Beyonce.
Randy White triumphs stronger than ever with a new found fortitude and strength. The world watches to see what's next for this mult-faceted rock star.
Be sure to visit http://TheRandyWhite.com Thanksgiving Day 2014 and return often for inspirational upcoming projects and events.