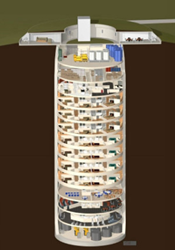 Pompano Beach, FL (PRWEB) November 30, 2014
"Doomsday Condos Sell Out"
A luxury condo project built in a former U.S. missile silo 174 feet underground in Kansas is sold out. The 2,000 square foot condos are designed to withstand a nuclear bomb. Amenities include a spa, dog park, gym and medical facilities. Prices range from $1.5 to $3 million. The developer is working on a second underground project.
"Million Dollar Home Sales Up 16%"
According to the National Association of Realtors, sales of existing homes priced over $1 million increased over 16 percent since October, 2013. Homes priced between $750,000 and $1 million increased over 12 percent while homes priced under $100,000 dropped 6 percent.
"Canada's Housing Bubble"
Average home prices in Canada at the end of 2013 were about $354,000 compared to about $250,000 in the United States. While the U.S. went through the worst crash in home prices since the Depression, Canadian home prices continued to climb. Some Canadian housing officials are worried.
"Florida Condo Flippers Are Back"
A sign that the Miami condo flippers are back at work. According to "The Real Deal," more than two-thirds of the recently sold out MyBrickell 192-unit condo building in Miami's Brickell neighborhood are already up for sale or lease.
"America's Top 10 Pricey Markets"
The average price for a four bedroom, two bath home in Los Altos, California is about 30 times more expensive than a similar home in Cleveland, Ohio. Nine of the ten most expensive residential real estate markets are in California.
"Creative Home Financing Is Back"
Adjustable rate mortgages, interest-only and other alternative mortgages are back in some parts of the U.S.
"Top 10 Florida Towns"
Florida has almost 20 million residents and will soon surge by New York as the country's third largest state. According to the real estate website, Movoto, the #1 city to buy a Florida condo is Coral Springs.
"Baby Boomers Retirement Homes"
Almost half of baby boomers say they want a bigger house when they retire but the Great Recession is causing problems. Average boomer home net worth has gone down from $200,000 in 2007 to $143,000 in 2013 while outstanding median home mortgages have more than doubled since 1992.
"America's Top 25 Suburbs"
"Business Insider" ranks the 25 best suburbs in the United States. Rankings are based on housing affordability, school quality and safety. All but two of the suburbs are located in the Midwest or the South. Cincinnati, St Louis, Milwaukee, Indianapolis and Minneapolis each have two or more suburbs in the top 25.
"America's Cheapest House"
The most expensive home currently on the U.S. market is in Beverly Hills asking $195 million. The least expensive might be a home in Flint, Michigan for sale at just $188.
"Still Hurting Housing Crash Towns"
While much of the United States has substantially recovered from the real estate crash, some towns are still struggling with housing values 35 to 42 percent below their peak prices.
"Ghost Town Sells For $1.9 Million"
A Connecticut town that was once a thriving mill community but deserted for many years sold at auction for $1.9 million.
"Alabama Football Coach Gets a Free Home"
America's most successful college football coach, who won national championships in 2003, 2009, 2011 and 2012, makes almost $7 million per year. He also gets a free house.
See all this news and much more at TopTenRealEstateDeals.com.
Contact:
Terry Walsh
Marketing Coordinator
terry(at)toptenrealestatedeals(dot)com