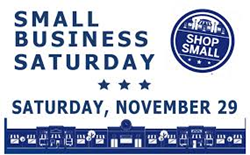 Recognize the value of small business and take the slogan to heart--"think big, shop small" and explore Franklin County for Small Business Saturday, November 29.
Franklin County, PA (PRWEB) November 26, 2014
The Franklin County Visitors Bureau invites holiday shoppers to explore the downtowns of Chambersburg, Greencastle, Mercersburg, Shippensburg, and Waynesboro on the fifth annual Small Business Saturday, November 29, 2014. Many of Franklin County's small businesses are family-owned --where pride in product and greeting folks with a heartfelt hello are top priorities. Shoppers will find a variety of specialty stores throughout Franklin County's downtowns--chocolatiers, winemakers, pipe craftsmen, and clothing boutiques with well-known clothing lines, natural fibers, and local-made apparel.
Franklin County is an agricultural county. It is a bountiful supplier of milk---from both cows and goats. Trickling Springs, Esh's, and Whispering Brook Cheese Haus transform the milk into artisan cheeses, and Windy Knoll Creamery makes fresh ice cream year-round. Franklin County is a major Pennsylvania apple producer, and home to the well-known Chambersburg peach. Give a Franklin Fresh gift of apple cider or peach preserves. Add a special flavor to holiday get-togethers and give tasty hostess gifts.
The creativity of Franklin County is found throughout downtown galleries, art stores, and vintage furniture shops. Destination Waynesboro, Chambersburg's Council for the Arts, and Shippensburg's Thought Lot offer many forms of art for shoppers to find a truly one-of-a-kind gift.
Small business is a mainstay of Franklin County's economy with just over 6500 small businesses with five or less employees, according to Hoovers Inc, a data division of Dunn & Bradstreet. Of these, 5000 businesses have two employees or less. Recognize the value of small business and take the rallying slogan to heart-- "think big, shop small" and explore, browse, and experience the downtowns of Franklin County on Saturday, November 29.
The Franklin County Visitors Bureau suggests these highlights of Franklin County's Small Business Saturday:
In downtown Chambersburg:
Historic and beautiful, Chambersburg is the seat of justice for Franklin County. Majestic Memorial Fountain marks the crossroads of the historic Lincoln Highway—U.S. Route 30—and Route 11 in downtown Chambersburg.
Pop-Up Retail Stores at 1 N. Main Street: Junk and Disorderly specializes in "refreshed furniture and rescued relics from the past." The Saturday Shop will feature artwork from local artist Cookie Redding. Prints, paintings, design posters and design products will be for sale. An 11/30 pop-up store will feature new 11/30 Crossroads of the Country merchandise.
In downtown Shippensburg
Another lovely town, settled by Scots-Irish immigrants in the 1730s, Franklin County and Cumberland County share Shippensburg. Named in Norman Crampton's book, 100 Best Small Towns in America, Shippensburg is well-known as a college town.
Mosaic Coffee – 15% off all coffee orders – Located inside The Thought Lot – 37 East Garfield St., Shippensburg, PA. The Lollipop Shop – Ruth will be offering $1.00 off 1lb. bags of her Famous handmade Christmas Clear Toy Candy on Small Business Saturday. Open 9am-3pm.
In downtown Greencastle
Old-fashioned charm and friendliness describe Greencastle perfectly. Located near the Maryland state line along the I-81 corridor, Greencastle was founded in 1782 by John Allison, a personal friend of George Washington.
Greencastle as a uniquely quaint and charming shopping destination and is home to the Greencastle Shopkeepers--a group of seven business women who are working together to promote. In the spirit of Small Business Saturday, visit as many as possible! The Shopkeepers are: Joyful Arts Studio @21 East Baltimore Street, Up Scale Consignment @ 24 West Franklin Street, Penny Lane Antiques @ 45 South Washington Street, Crown Vetch Cottage @ 27 South Carlisle Street, Inner Beauty @ 11 East Baltimore Street, and The Traveler's Trunk @ 103 South Carlisle Street, the Lower Level.
In downtown Mercersburg
As the boyhood home of fifteenth president James Buchanan, Mercersburg offers rich colonial, Underground Railroad, and Civil War history. Take the historic walking tour of downtown, enjoy the wonderful early American architecture, and listen for the lovely 43-bell carillon of the Mercersburg Academy Chapel.
Downtown specials include: Four Dog Vintage Creations – 10% Off Storewide, Pachallina – 10% Off Storewide, Free drawing every Saturday for $20 gift certificate; spend $100 and get a pair of socks free, Snider's Jewelers – Bracelet Special, and The Dressing Room – Spend $50 Pre-Tax and Receive a $5 Coupon Good for the Month of December.
In downtown Waynesboro
Turn back the hands of time with a visit to downtown Waynesboro, where our brick-paved sidewalks and striking Victorian architecture create a pleasant and welcoming shopping atmosphere. Be sure to visit Zoe's Chocolate Co. on Main Street. Zoe's dark chocolate bar with gold was recently featured in the December issue of "The Oprah Magazine."
The Franklin County Visitors Bureau invites all to explore Franklin County PA and enjoy the history, arts and entertainment, recreation and natural beauty, and the fresh foods and warm hospitality of charming communities like Chambersburg, Greencastle, Mercersburg, Shippensburg, and Waynesboro. Franklin County PA is located just north of the Mason Dixon Line and an easy drive to Washington DC, Philadelphia, and Pittsburgh. Discover more....plan your visit at ExploreFranklinCountyPA.com or by contacting 866.646.8060.