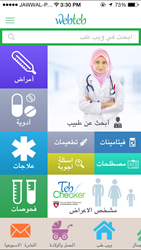 Amman, Jordan and Ramallah, Palestine (PRWEB) November 27, 2014
WebTeb, the leading Arabic health and lifestyle portal, announced today that it has won the 2014 His Highness Sheikh Salem Al-Ali Al-Sabah Informatics Award, on both the website and the smartphone application categories. The prizes have been granted since 2001 to encourage a comprehensive digital society and support Arabic digital content. Each prize is worth $ 15,000.
The award winners were selected from approximately 20,000 contesting websites and smart applications. Websites and smartphone applications were judged on the basis of services, content, design, applied technology, quality, coverage space and diversity.
Among the awardees are the Bahrain government portal, the website of the Al-Jazeera satellite channel, the Abu Dhabi portal, the Dubai police app and more.
"We are immensely pleased and humbled to win awards in both categories – site and application. This is a further step in our quest to bring better lifestyle and health information to Arabic users, so we can make a positive impact on people's lives" said Dr. Mahmoud Kaiyal, founder and CEO of WebTeb. "I am especially grateful to the employees and investors of WebTeb who have been crucial in bringing the site and app to their market leading position today".
The awards will be presented at a ceremony in December attended by His Highness the Amir Sheikh Sabah Al-Ahmad Al-Jaber Al-Sabah. The judging committee is made of eleven members from nine Arab countries.
About WebTeb
WebTeb's goal is to provide Arabic-language comprehensive health and medical information so that its Arabic-speaking users can live better and healthier lives. WebTeb publishes exclusive and high-quality evidence-based medical information and continuously updates it. WebTeb strives to be the leading professional and reliable source of information for Arabic-speaking users and to provide a platform for their interaction with health practitioners, hospitals, doctors, dentists, pharmacies, pharmaceutical companies, insurance companies, therapists, and health education institutions.