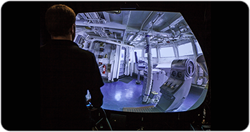 Christie continues to meet industry needs with cost-efficient, high-performance, fully integrated display solutions for today's most demanding training requirements.
I/ITSEC 2014, Orlando, Florida (PRWEB) November 27, 2014
Christie® continues to lead in the simulation market with cost-effective, high-performance visual display solutions and systems integration expertise. AT I/ITSEC 2014, December 1 - 4, Christie will demonstrate three visual systems showcasing Christie AutoCal™ automatic display system calibration, a three-channel Matrix StIM WQ display showing simulated content at 120Hz, the debut of its low cost-of-operation Christie GS Series laser phosphor illuminated projectors, and an innovative spherical video trainer concept featuring real-world images for entry level applications.
Calibrated to Impress with Christie AutoCal
Christie AutoCal™ calibrates virtually any arrayed projection display, from flat to cylindrical to spherical, and adjusts it to its optimized viewing configuration resulting in a stabilized, consistent display. Using two Christie Matrix StIM™ WUXGA-resolution projectors, Christie will demonstrate the auto-calibration technology and process in real-time, showing how AutoCal's simple interface offers expert display adjustment capabilities at the end users' fingertips. It can re-calibrate both geometry and blending with accuracy and speed, helping to make the system easy to manage and maintain. The result is a highly efficient solution that reduces location resource requirements, maintenance costs and system downtime, while increasing customer independence with regard to maintaining their multi-projector displays.
Heightened Realism with Matrix StIM WQ at 120Hz
The Christie Matrix StIM WQ integrated, scalable projection system will use its unique, dual-input architecture to operate in 120Hz RGB interleaved mode to display simulation content at 120Hz for the clearest images with no motion-induced, visual artifacts. Another use of the Matrix StIM WQ's dual-input architecture is Christie InfraScene™ mode which displays separate RGB and Infrared (IR) channels to produce independent, stimulated Night Vision Goggle (NVG) images for a more realistic NVG training experience. The 800-ANSI-lumen Matrix StIM WQ is the brightest LED-based WQXGA simulation projection system in the industry.
Christie will demonstrate a three-channel, front-projected display powered by FlightSafety International's VITAL 11 Image Generator, showing a North Sea visual database optimized for 120Hz update rates. Each projector will composite two 60Hz inputs to achieve true 120Hz RGB operation, eliminating motion-induced blur and spatio-temporal aliasing and thereby dramatically improving dynamic image quality. The complete multi-channel system is automatically aligned using Christie AutoCal™ and Christie Twist™ warps and blends the image into a single, uniform display.
Christie Lampless Laser Phosphor Projection Makes its I/ITSEC Debut
Christie is big on compact and portability, but not short on features! Christie's spherical video trainer system concept comprises a 2 by 2 array of Christie DWU555-GS solid-state, 1-chip DLP® laser phosphor projectors, with 5,400 ANSI lumens and WUXGA resolution for bright, razor-sharp 1920 x 1200 images. With Christie GS Series laser phosphor illuminated projectors, customers avoid the cost and maintenance of lamp and filter replacements and enjoy an astonishing 20,000 hours of low-cost operation. Ideal for entry-level applications, the fully integrated, compact trainer features several simulation integration technologies, including a 360-degree look-around ability, six channel sound, auto-alignment using Christie AutoCal™, and Christie Twist™ LT for image warping and blending to create a seamless image on a curved immersive screen.
Always pushing the boundaries of simulation display systems and exploring new technologies, Christie has designed this unique system concept to demonstrate a new way to see the world in a simulated environment. For some possible training applications, it is faster to capture an existing environment photographically than to synthetically model every feature in CGI. One example might be orienting a new crew member to an existing ship before they even go to sea. The spherical video content features real-world images instead of synthetic CGI, thanks to WorldViz Vizard5 software displaying real images captured in 360° stills and video from AirPano, Kolor and Empire Media Group (EMG) by helicopter, hot air balloon and foot in a navy ship.
Christie lampless laser phosphor projectors light up spherical video trainer system concept
"Military and defense organizations are constantly challenged to balance tighter budgets and yet still provide the highest quality simulated environments available for safe, effective and productive training of personnel," said Jennifer Smith, executive vice president, Global Market Solutions, Christie. "Christie continues to demonstrate its knowledge and expertise in meeting simulation industry needs with cost-efficient, high-performance, fully integrated display solutions for today's most demanding training requirements."
Around the Trade Show Floor
Built by FAAC Incorporated, the Air National Guard's (ANG) Boom Operator Simulator System (BOSS), using three Christie Matrix StIM WQ projection systems and two Christie FHD461-X LCD flat panels, will be on display at the Air National Guard Training Development, booth # 1769.
DiSTI Corporation, booth #2419, will use a Christie QuadHD84 UHD, 3840 x 2160 pixel, LCD display to demonstrate its CH-47F Virtual Maintenance Trainer.
JRM Technologies, booth #1915, offers a stimulated Night Vision Goggle (NVG) demonstration using a Christie Matrix StIM WQ dual-input projector and Christie InfraScene.
FlightSafety International, booth #1401, will use four Christie Matrix StIM WQ projectors to feature its CrewView glass mirror collimated display and Vital Image Generator with a North Sea visual database optimized for 120Hz update rates.
Da-Lite Screen Company at booth #2469, will have three blended Christie DWU555-GS.
LMI do Brasil will use the Christie QuadHD84 to display DIGINEXT's DirectCGF High Fidelity Battlespace Generation Computer Generated Forces at DIGINEXT Virtual Reality and Simulation booth #2726
The NTSA SIM TV lobby displays will showcase I/ITSEC and exhibitor promotional content using Christie M Series projectors.
About Christie
Christie Digital Systems USA, Inc. is a global visual technologies company and is a wholly-owned subsidiary of Ushio Inc., Japan. Consistently setting the standards by being the first to market some of the world's most advanced projectors and complete system displays, Christie is recognized as one of the most innovative visual technology companies in the world. From retail displays to Hollywood, mission critical command centers to classrooms and training simulators, Christie display solutions and projectors capture the attention of audiences around the world with dynamic and stunning images. Visit http://www.christiedigital.com for more information.
Follow us:
Facebook.com/christiedigital
Twitter.com/christiedigital
"Christie" is a trademark of Christie Digital Systems USA, Inc., registered in the United States of America and certain other countries.
DLP® is a registered trademark of Texas Instruments.
All other trademarks are the property of their respective owners. ​