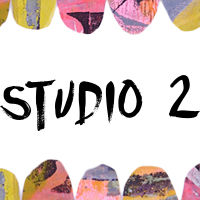 I try to create designs that are on the edge of funky, yet still very versatile.
Los Angeles, CA (PRWEB) December 02, 2014
Armed with a degree in apparel design and having worked with brands like Polo Jeans, Todd Oldham Jeans and Lucky Brand, it's no surprise that when artisan Natalie Baca of Studio 2 transitioned to the creation of her own line of handcrafted goods, her impact was immediate. Primarily self-taught, Baca began working with mosaic, and in a few short years, went from having her items in a local store to becoming a featured artist on HGTV.
Baca's rise to success afforded her the opportunity to expand her craft, and so she took to learning painting techniques – specifically mixed media collage – in the same self-taught method of her work with mosaic. When singers, entrepreneurs and sisters Jessica and Ashlee Simpson held a competition for a t-shirt design contest, Baca took the opportunity to feature her painting. Baca won, and her work was transformed into a t-shirt for the sisters' clothing line, with proceeds benefiting Jessica Seinfeld's charity, Baby Buggy. The shirt was featured in Macy's and Dillard's in 2013.
Predictably, Baca's success paved the way for many new opportunities, and it also led to the birth of her own brand, Studio 2, which launched in early 2014. Studio 2 encompasses the idea of original art and fun, and applies it to everyday items. When talking with Baca, she cites a few different notes of inspiration for her work: "To create something that's not only appealing to someone's eye, but also useful in his/her own home, gives me great pleasure. I try to create designs that are on the edge of funky, yet still very versatile."
Baca has since extended the reach of her brand to PinkLion.com, a marketplace for modern, independent brands. When asked about her own experience with PinkLion, Baca was very positive. "The people who work for PinkLion have been nothing but helpful," she says. "The social media team does a fantastic job getting the product out there. Overall, it has been an awesome experience, and I would definitely recommend PinkLion to other artisans."
While her brand is still new to the scene, there's no denying that Baca has the pedigree and achievements to augur eventual success. But for now, Baca's goals are decidedly more modest. "Being so new to the market, I've had a great start to the brand," she says. "My goal, however, is to continue to grow the business through the use of media and other tools made available to me, and to continue to create new, exciting product for it. My ultimate goal, as an artist, is to continue to grow and evolve."
Natalie Baca's Studio 2 brand and its artisanal home decor & tech-focused creations can be purchased at http://www.pinklion.com/studio2.