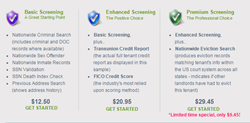 Rentec Direct understands the need and value for properly screening tenants and wants to provide all property managers and landlords with the tools to run tenant screening reports instantly.
Grants Pass, OR (PRWEB) November 28, 2014
Rentec Direct's affordable tenant screening solutions give landlords and property managers the tools to assess a prospective renter's ability and willingness to pay rent on time and for the full lease term. Properly screening tenants with a thorough credit and background check can help protect a rental property and prevent the financial burden associated with non-payment or late rental payments.
With online rental software from Rentec Direct, property managers and landlords can check an applicant's criminal background at the state, county & national level. Rentec Direct screening services generate an applicant's credit report instantly, to assess an applicant's payment history and see if there are any outstanding debts or filings against the applicant to determine creditworthiness.
Tenant screening reports in Rentec Direct's software can also validate social security numbers to eliminate any fraud associated with the SSN. And a landlord can check an applicant's rental history to see if he has ever been evicted.
With online property management software from Rentec Direct, tenant screening reports are generated instantly, 24/7, and are accessed and controlled by the property manager or landlord. Rentec Direct gives customers the option to bundle all reports together in a package to retrieve the information all at once, or pull individual reports as needed.
Rentec Direct is currently offering a $20 discount on premium tenant screening packages which includes: credit, nationwide criminal, eviction, and SSN verification reports at http://www.rentecdirect.com.
About Rentec Direct
Rentec Direct provides cloud based rental software solutions for property managers and landlords. Other popular solutions offered by Rentec include tenant ACH payment processing, tenant screening, and online syndication of vacancies to more than twenty popular websites.