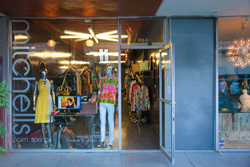 "I hand select each item in the store. A designer label is nice, but what is most important to me is style. I look for amazing pieces that are interesting and iconic with the goal of putting them in the hands of customers who appreciate them."
Palm Springs, California (PRWEB) January 06, 2015
Mitchells in downtown Palm Springs is where to find the best in groovy fashion and trendy accessories spanning the decades from the 70's, 80's, 90's, and today. The hybrid of couture, new, and vintage is a formula for success drawing in customers with its hip vibe and palpable swank. The store is host to the largest collection of pristine, vintage eyewear for both men and women and proudly carries clothing in a wide range of sizes in addition the store sells Parke & Ronen swim and sportswear for men, Taschen Books, select home accessories.
"One way to make a customer feel good is to have stylish clothing for them to wear in a size that fits them," says Mitchel Karp, proprietor. "I hand select each item in the store. A designer label is nice, but what is most important to me is style. I look for amazing pieces that are interesting and iconic with the goal of putting them in the hands of customers who appreciate them."
Mitchel Karp is no stranger to fashion. Born in New York City and raised in Hudson, New York, fashion has always been in his blood. His parents ran a successful department store for over fifty years where he learned the art and realities of retail. In addition, his love for the latest trends and classic lines served him well while working as Fashion Coordinator and Personal Shopper at Bloomingdale's in Boston, Mass. while attending Northeastern University. There he specialized in European designers such as Yves Saint Laurent, Louis Feraud, Chloe, Paco Rabanne, and Bernard Perris. Later, he moved to San Francisco where he was employed by the luxury brand; Dunhill of London. After three years, he decided to further his fashion resume by moving to the Los Angeles Custom Shirt Shop to serve as the store manager and learn custom tailoring and custom design. "Mitchells Palm Springs is the natural next step for me as it blends my savviness as a successful business owner, formalized education, and life-long passion for fashion." While you are shopping please enjoy the European water bar with waters from all over the world.
With its eclectic clothing collection and vintage eyewear, Mitchells' customers will have no problem getting noticed whether lounging by the pool during the day while catching some rays or out for an evening of socializing with friends, at dinner, or out dancing the night away. This season of vintage inspired clothing by Parke and Ronen has arrived offering customers vibrant color patterns and rich fabrics with in a range of sizes and cuts for maximum appeal. "After giving the store a quick renovation, I have been able to more than double our inventory of vintage and past season designer fashions just in time for this holiday season." Mitchells is located at 106 S. Indian Canyon in Palm Springs and is open Thursday & Friday (11am – Late), Saturday (10am - Late), Sunday & Monday (11am – 5pm) or by appointment. To arrange a private styling and/or shopping experience, call the store directly at 760-864-1515 or send an email to info@mitchellsps.com. To learn about store events and promotions, visit Mitchells on the web @ http://www.mitchellsps.com, "Like" the store on Facebook @ mitchellsps, and follow it on Instagram @ mitchellsps.