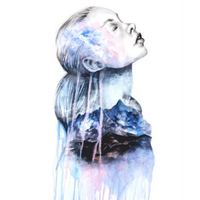 I wanted to be more than just a starving artist. I wanted to be a brand in itself.
Los Angeles, CA (PRWEB) December 16, 2014
Master illustrator Hayley Wright didn't set out to expand the scope and application of Fashion Illustration, but as the popularity of her work and her sphere of artistic influence continues to grow, that may be exactly what she does.
To hear her tell the story, one can't help but notice the paradox that led her to the place she's in now: The problem was school and the solution was school. Specifically, Wright enrolled in the Fine Arts program at the University of British Columbia in 2007, spurred by a long-time enthusiasm for all things art. She experimented with many different mediums and styles of art, but was ultimately unmoved with her work.
It wasn't until she attended the Vancouver College of Art and Design that she realized both of her favorite things – art and fashion – could be combined into one unique art form: Fashion Illustration. What she did next, though, is what's getting her noticed.
In 2009, Wright began Paper + Ink, a comprehensive collection of her work and a bold move for a fashion illustrator. "I wanted to be more than just a starving artist," said Wright. "I wanted to be a brand in itself, and I chose the name because at the time, all of my illustrations were created using ink and paper.
"The work in my shop is everything I am most proud of."
What stands out most about Wright's work is its inherent uniqueness, and in the art world, being different is a precious asset. While there are certainly fashion illustrators out there experiencing commercial success, there aren't many, and that's what helps Wright's work to further stand out. "My career as an artisan began when I was able to make and sell prints of my work," says Wright. "The demand grew and grew and I was thrilled that people wanted to display my artwork in their homes.
"In the coming years, I would love to be able to illustrate full-time, expand my client base and do collaborations with well-known brands."
Wright recently expanded Paper + Ink to PinkLion.com, a marketplace that celebrates modern, independent brands. According to Wright, the move to PinkLion was the right one. "PinkLion is a beautiful resource for artists and creators around the world. It has a beautiful and easy-to-use interface, which is a major plus, and it is filled to the brim with amazing products. There's not a day that goes buy where I don't add something to my wishlist."
##
Hayley Wright and her brand, Paper + Ink, can be found at pinklion.com/paperandink.