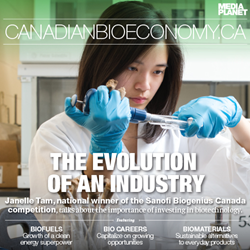 Everyday people need to care about its growth because it impacts so many areas of our lives: from the food we eat to the medicine we take to heal our bodies.
(PRWEB) November 27, 2014
The print component of Building The Bioeconomy is distributed within today's Home and Business subscription of the Toronto Star, with a circulation of approximately 230,433 copies and an estimated readership of 622,169. The digital component is distributed nationally through a vast social media strategy and across a network of top news sites and partner outlets. To explore the digital version of the campaign, click here.
The publication features national prize winner Janelle Tam for the Sanofi Biogenius Canada competition. Winning at the age of 17, she shares her impressive list of discoveries and innovations, reminding Canadians just how important biotechnology is for the future of our country: "Biotechnology is important not only because it provides us with solutions to important problems, but because it allows us to do it in a sustainable way."
The campaign also features a spotlight on three of Canada's renewable fuels leaders whose companies, products, and break-through technologies are building Canada's bioeconomy. The showcase includes Enerkem's full-scale waste-to-biofuels facility in Edmonton, Alberta; Greenfield Ethanol, Biomass pretreatment system in Chatham Ontario; and IGPC Ethanol Inc Aylmer Ontario.
Special thanks to Canadian Renewable Fuels Association, Ontario Power Generation, the University of Toronto Mississauga, and the Forest Products Association of Canada, among others, for their support and contributions in the making of this campaign.
About Mediaplanet
Mediaplanet is the leading independent publisher of content-marketing campaigns covering a variety of topics and industries. We turn consumer interest into action by providing readers with motivational editorial, pairing it with relevant advertisers, and distributing it within top newspapers and online platforms around the world.
Press Contact:
Jessica Samson-Doel
Jessica.samson.doel(at)mediaplanet(dot)com
416 583 2207